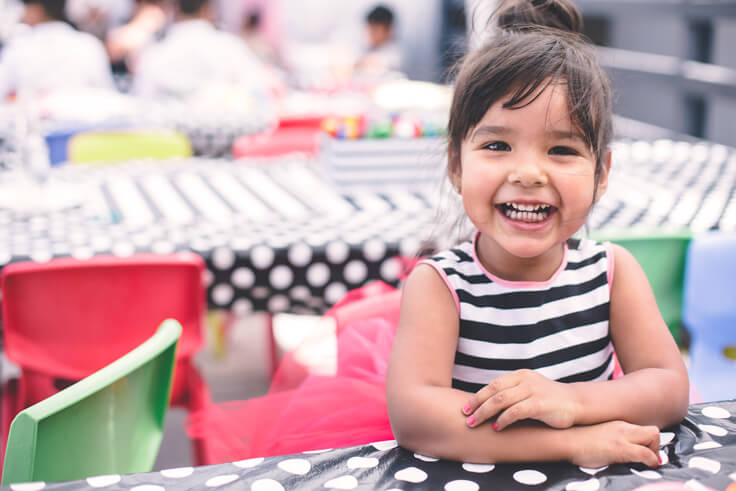 My daughter Selina's 3rd birthday party was so much fun to plan and celebrate. I was inspired by all the things my daughter loves and decided to make it the theme of her party! She will only be 3 for a short time and her likes & dislikes change very quickly. I wanted to capture this moment in time of her being a silly-sweet toddler forever.
Now I know it's been a while since my last blog post, so I apologize for that. SO much has been going on over in my little corner of the world, that I simply could not do it all, I can only tackle so much in a day…I had to sleep at some point. I think things have settled a bit with all the family business I was taking care of that i can get back to blogging a bit again 🙂 Yay!
Below I share some fun details and inspiration that went into Seli's party. I have so many pictures I want to share that I'm going to break down Seli's Party into several posts! Enjoy!

This is the inspiration board I did for Seli's party to help guide me and keep me focused on the theme. All images are from Pinterest. I looked up things like black and white party, or colorful kids party. I definitely was gravitating towards a fun and modern theme. I also knew I wanted to incorporate some of the doodles I had started creating of all of Selina's favorite things. Before I knew it I had drawn her favorite toys, her fave food, and favorite things! I just had to use them somehow, below you'll see how.
I also started to see a lot of geometric shapes in black and white at retail and thought how perfect this theme will be. I'm obsessed with print on print and, so I went for it. Stripes, polkadots, geometric shapes, black and white and tons of color!!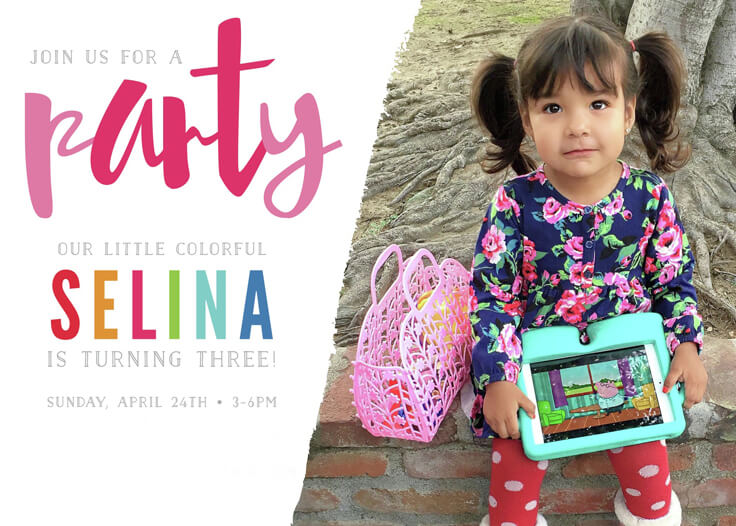 Here is Seli's invite to her party, colorful and cute just like my little Seli Beli! – I really wanted to create original art for her invite, but I simply didn't have enough time to pull it off, with camping, Easter and other family commitments, couldn't quite manage to get them done in time to mail. I got these from Minted. They have the cutest cards for all kinds of special events. Loved these!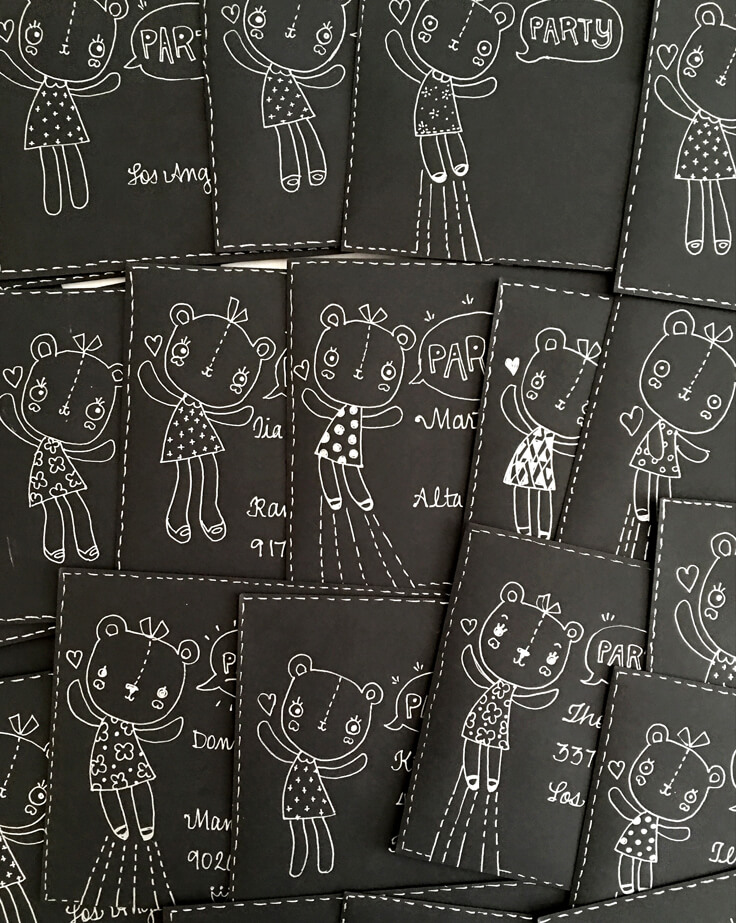 Since I couldn't get the invites custom made, I decided to do some original artwork on the envelopes. I always wanted to sit and draw on envelopes i would be mailing, but I've never had the time to do so. Now that I'm at home, those are the little things I was so looking forward to doing. Sitting there doodling on all my favorite people's invites was so much fun for me, just thinking of them getting their mail and receiving a fun little invite made me smile.?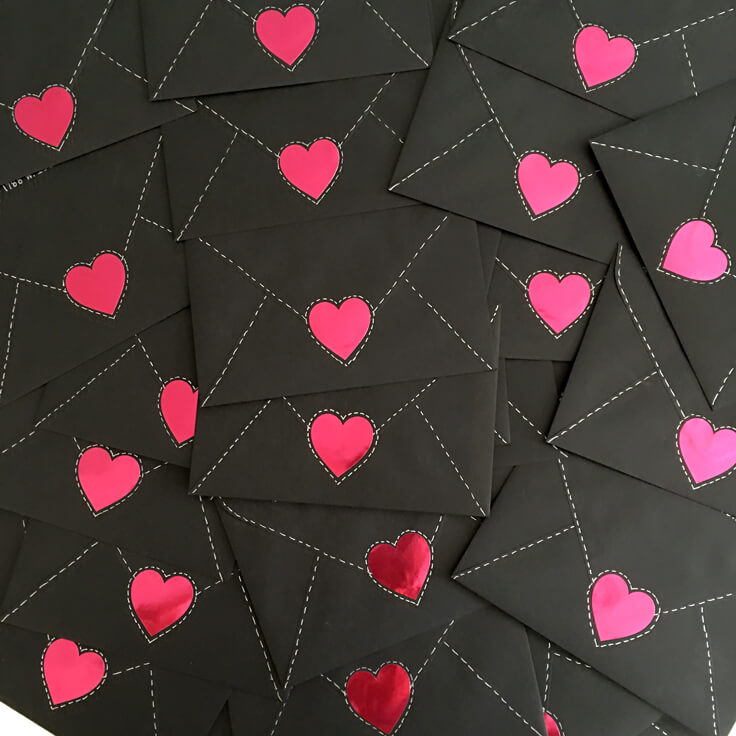 The little details. With Love ❤️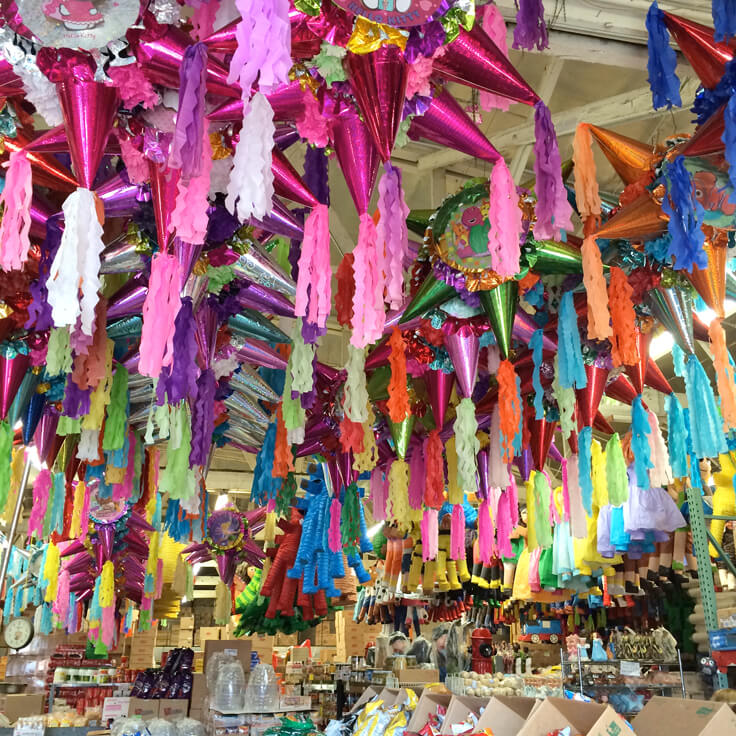 Next stop, after the invites are mailed…Piñata District in DTLA of course! It's the go-to party place for me with all the parties I throw every year for all the kids I have! LOL!
The piñatas are very reasonably priced…$12 dollars can get you a very big piñata! Plus stock up on all the candy for it and the favor bags. They have tons of goodies for the goodie bags. I especially love the light up sunglasses (which you can get a dozen for $8!) I always include them in my party goodie bags.
They also carry all kinds of licensed character products, from Minnie Mouse, to Shopkins (the hottest piñata right now I think LOL) to action figures, like Superman, Batman and any Teenage Mutant Ninja Turtle (plus many many more of course). Anyway, if you are throwing a kid's birthday party…it's a must stop by and check it out. There is plenty to look at and lots of food to eat!  But, I HIGHLY recommend to go during the week. Weekends are a bit too much, parking is very bad and it gets very crowded.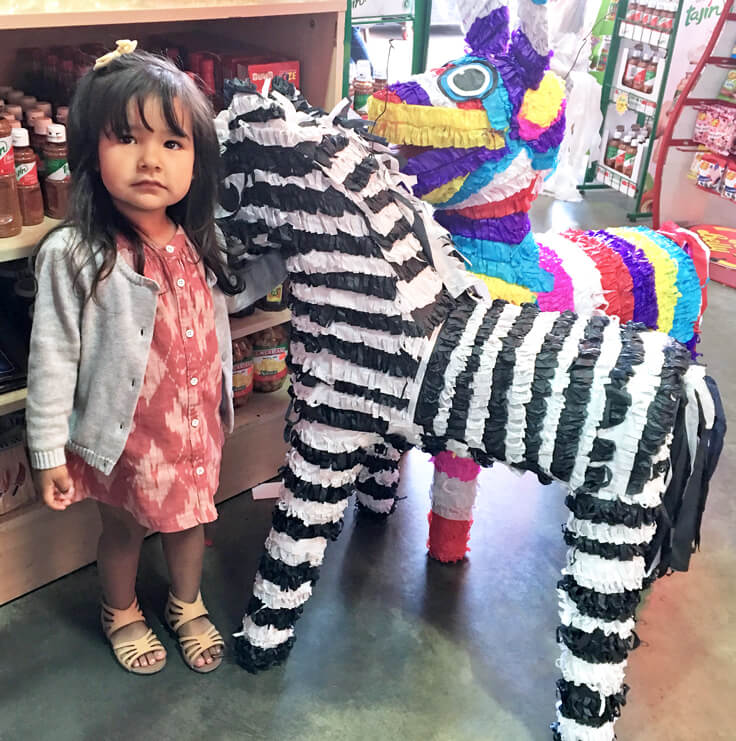 Seli had no trouble picking her piñatas. Black & white Zebra for the little kids…Colorful Donkey for the big kids to hit!
Seli's outfit…I looked and looked for weeks and weeks trying to find the perfect dress for my little princess to wear to her party. Nothing really came close and if it did, it was a bit too pricey and above my budget. So I decided I would make her her party dress of course!
I shopped Michael Levine for my fabric and was inspired by this striped fabric I didn't even know I wanted or existed! You never know what fun fabric you'll find at Michaels, I love it there! So instead of one dress, I made two! The tulle ballerina inspired dress and a cute colorful shift dress with pom-poms. Fun to make and fun to see her wear!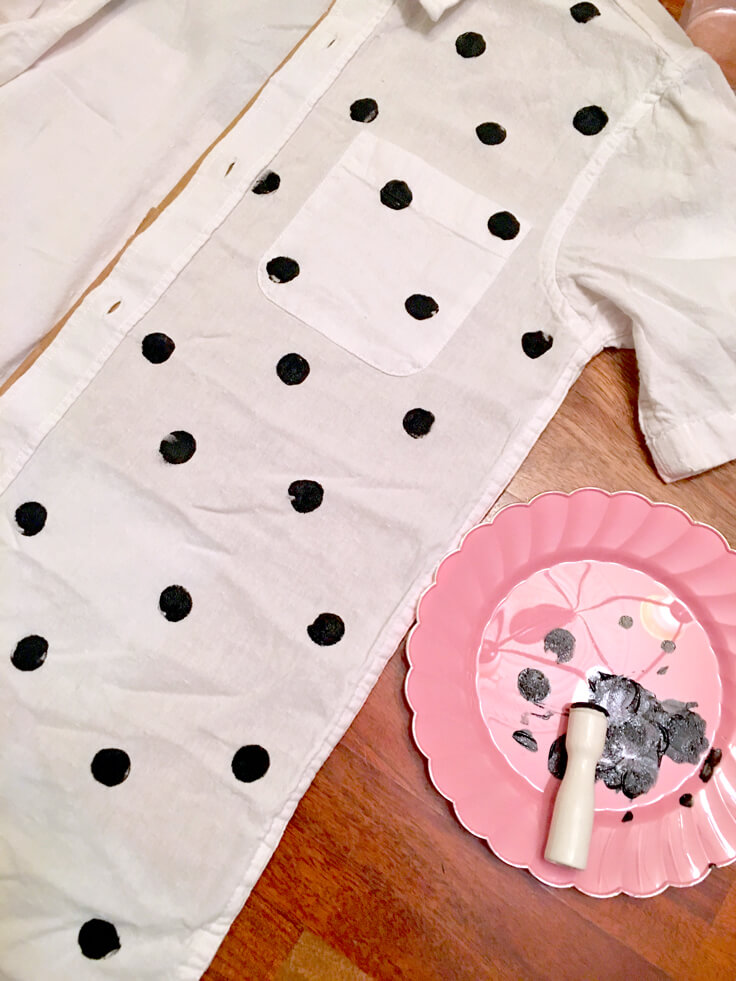 For my boys, I also couldn't find exactly what I was looking for…H & M had the perfect shirts, but not in any of the right sizes for my 3 boys, Darn it! Plan B…Old Navy white short-sleeve shirts and black fabric paint…a few polkadots later… Ta-da! Instant party coordinating outfit with sister! they are such good sports, they don't care and let me dress them…for now anyways. I'll take it!
Goodie bags taped up and ready to be packed. Polkadot tape for girls and stripes for boys…unfortunately with all the chaos in the middle of the party I forgot to tell whoever passed them out that they were already marked for girls and boys! eek! Oops! Hope the kids didn't mind!
I love flowers at parties, especially for little 3 year olds like my little Seli. I choose to go with a colorful bunch of carnations, roses, ranunculus, and anemones. The best place to get a variety of flowers and at a very good price, The Flower Market in DTLA. There is tons of vendors and lots of flowers and plants to choose from!
These pretties melt my heart. Thank goodness I had my husband, sisters and helpers to put it all together the weekend of the party!

More fun black and white inspiration at Target and Ikea. Seli catching a ride with dad  <3
These inexpensive black & white polkadot rugs were only $20 at Ikea! Perfect for creating focal points for photo-ops.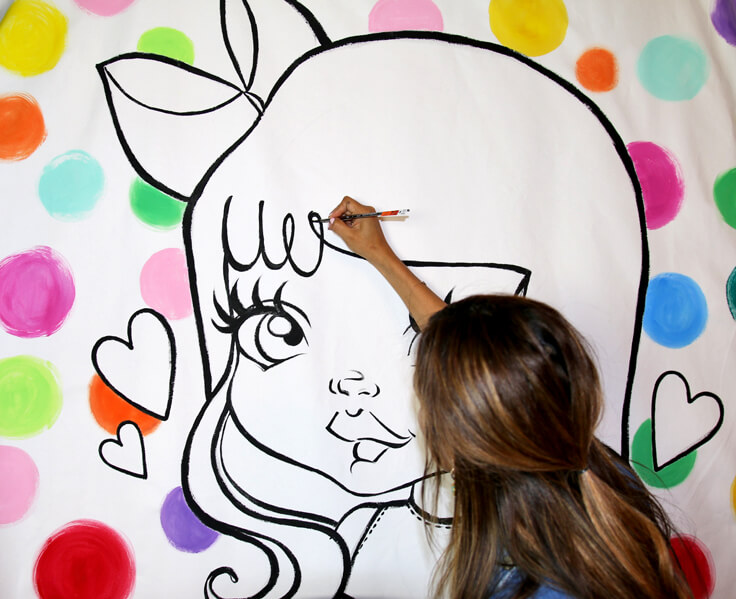 I had two backdrops to figure out. One for the Cake and Cookie table. (Seli is obsessed with all things cookies, like any toddler, right!? so we did cookies instead of candy). The other backdrop is for our kid's food table. I decided to do a chalkboard backdrop and balloon garland for the Cake & Cookies table and this cartoon version of Seli for our kid's table. I think overall the food tables complimented each other with the play on black and white, plus color everywhere.
These are the doodles of Seli's favorite things, that I created into this pretty neat (8'X11′) photowall for the invites to take pics. I got my photo wall printed at Sam's Signs in Chinatown, they are reasonably priced and great turn around time. I LOVE L.A….can you tell?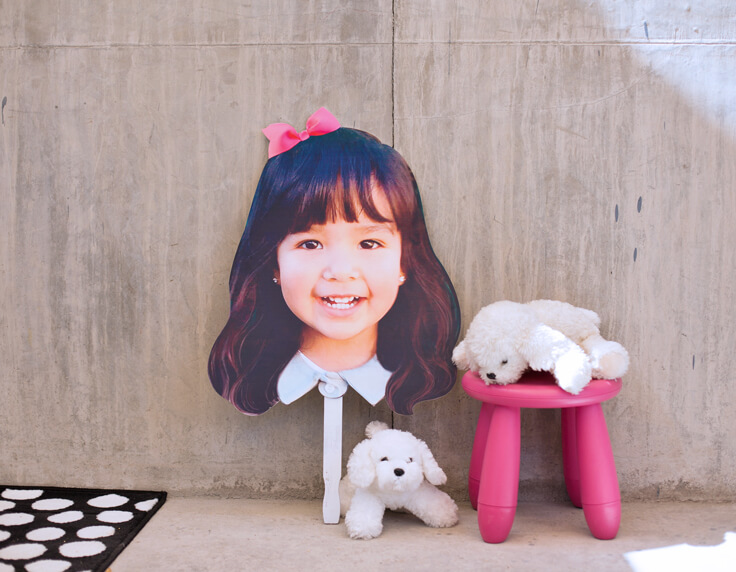 Love these cool picture props from Crowd Signs! We had a big head Seli and a cool Instagram frame! They were a big hit and everyone had a blast taking pics with these props.
Can't wait to share the rest of the pictures from Seli's 3rd Birthday party next post! It's been a little over a week and Selina is still talking about it and calls it "my cool party". I love her and I'm glad that she had a blast! That was the goal!
Stat tuned for more fun party pics!
Cheers!