I'm always so busy and I'm sure you are too…that when October rolls around I know I'm probably 3 times more busy than usual, so I love when I can come up with a costume that is easy, comfortable and impactful for those last minute Halloween party or events. And lets be real, we want to feel pretty and sexy…but definitely not overtly sexual. I don't care at all for those skimpy costumes… hence why I like to come up with my own costumes & still feel super feminine.
Now we are half way thru October and I have another easy costume idea…a Wild Tiger!! It may sound complicated but it really is not. Check out below how I put this Wild Tiger costume together with a cheap black dress I found at the Goodwill store (thrift shops here in the US) and some orange make up! ?Rawr!!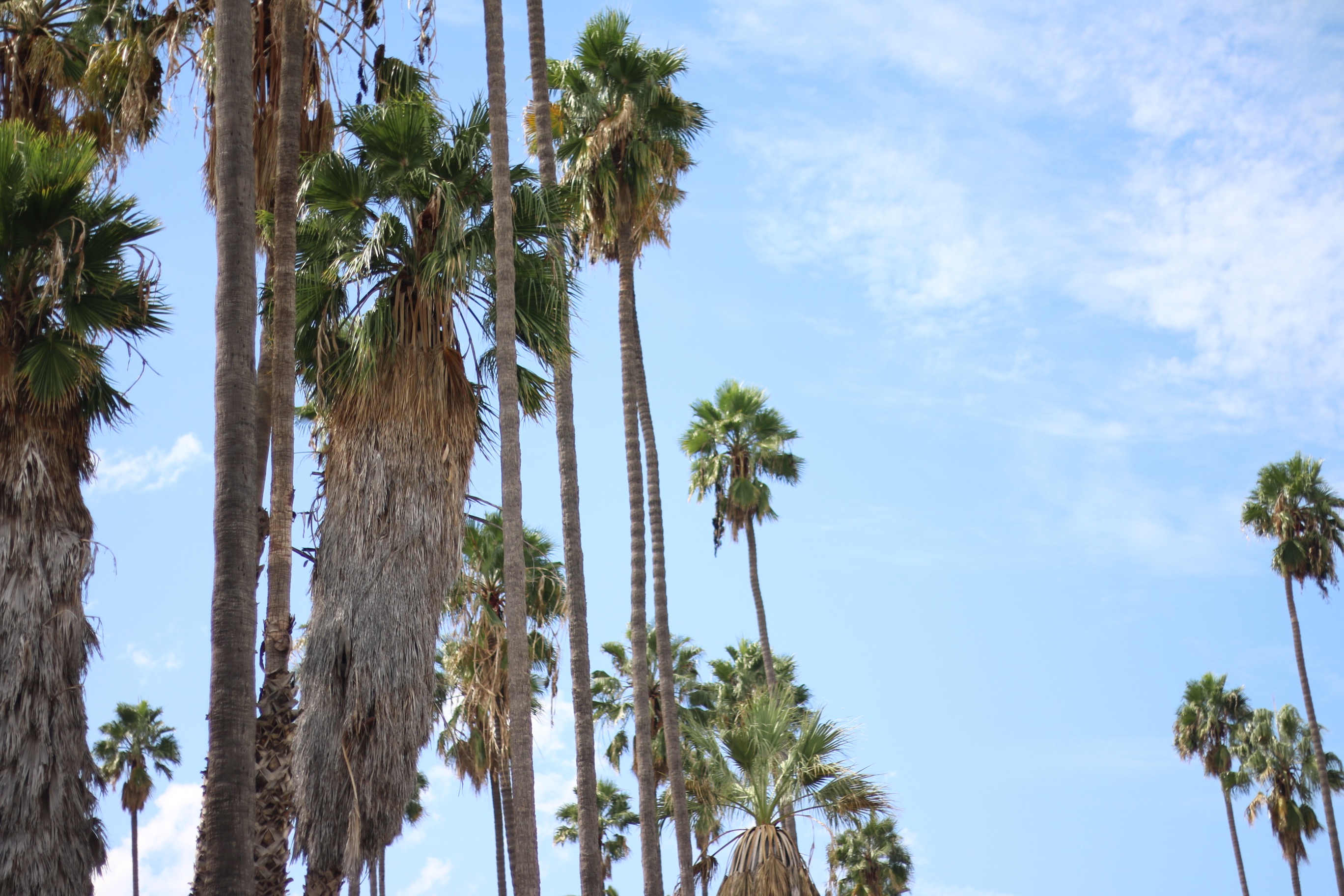 L.A.'s Concrete Jungle…were Wild Tigers roam free….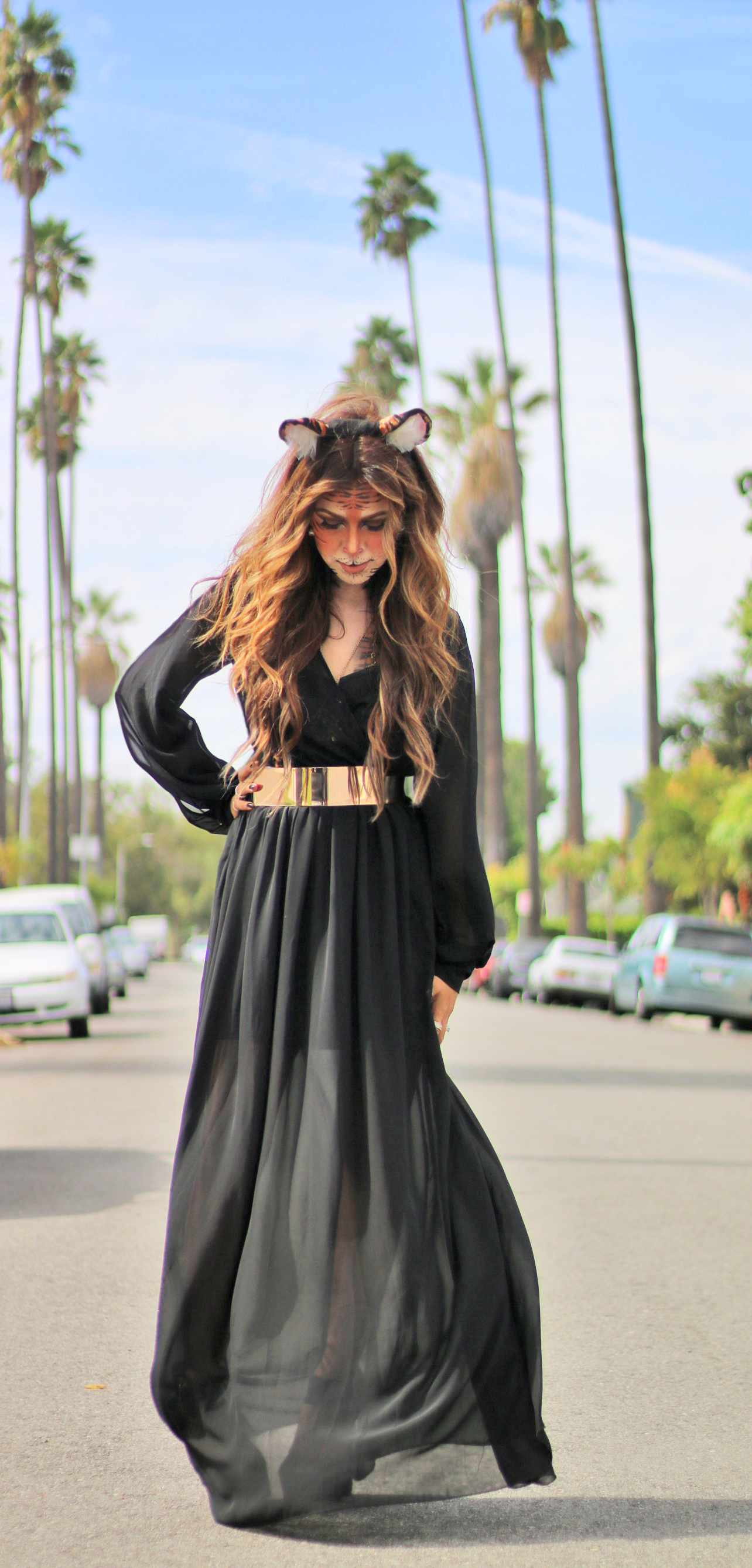 So, does that mean I'm T i g e r –  L i l y  now???❤️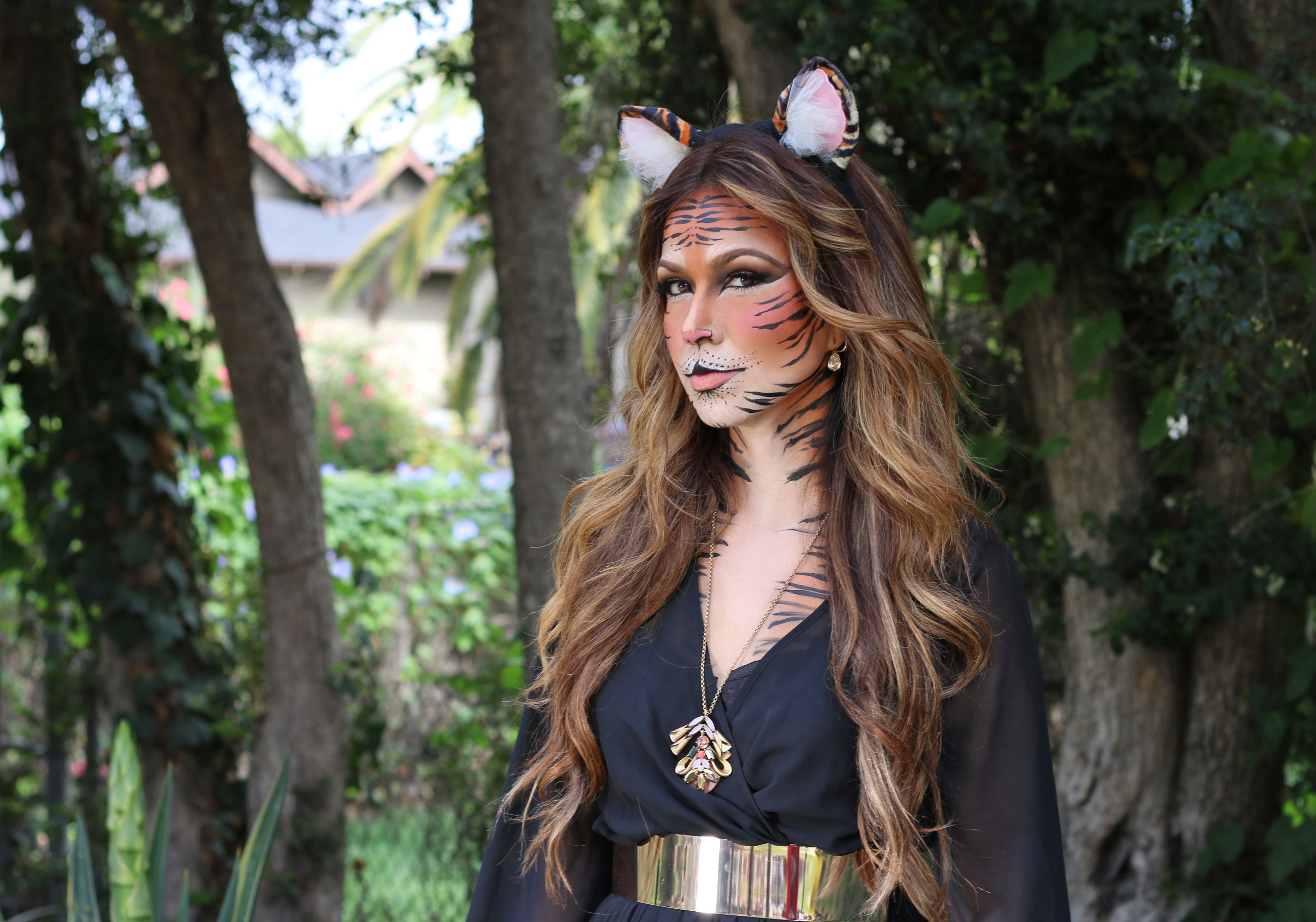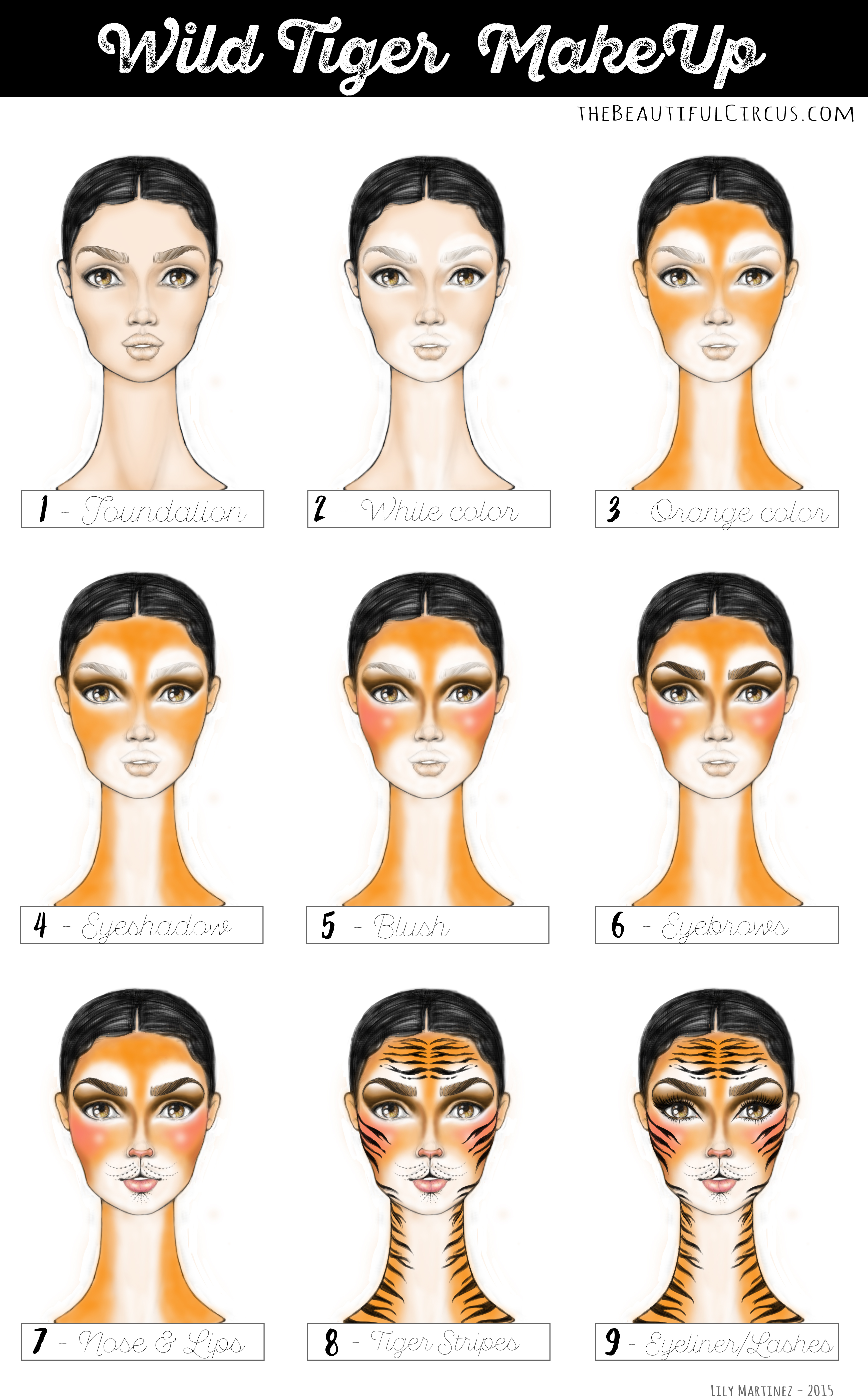 1 – Foundation: Apply your favorite foundation and light powder if you like. I used LOréal Visible Lift in Sun Beige.
2 – White Make-Up: Then apply the white cream make-up with a sponge around the eye, under nose, the nose bridge & center of neck. I used Make-Up Forever Flash Color Case.
3 – Orange Make-Up: With a wide stifling brush or sponge apply the orange make-up to forehead, sides of face, sides of neck, (either Halloween make-up or what I used, Ben-Nye's Ultimate FX palette )For setting cream orange make-up, use your choice of bronzer, applying on above forehead, sides of the face, & sides of neck. I used Milani Baked Bronzer.
4 – Eye Shadow: The eyes are key for this awesome Wild Tiger make up look. I used a combination of browns and blacks to achieve a very dramatic look. A smoky dark brown cat eye. I applied the ombre eyeshadows to the top of the eye only. O used white eyeliner and white eyeshadow for the bottom of the eye. I used Ben Nye's Essential eyeshadow palette.
5 – Blush: Apply your favorite blush, and lots of it, with a blush brush. I used MAC Cosmetics blush.
6 – Eye Brows: Apply make-up to your eyebrows how you regularly would. I use Maybelline Expert Wear Brow Eye Pencils. I went for extra brow drama, I also used Anastasia Beverly Hills in Chocolate for the underneath of the brow.
7 – Nose & Lips: I only painted the bottom lip with NYX Mattel lip Cream in Istanbul, I used the same for my nose. Make sure to also out line your nose with black paint, either liquid eyeliner or Ben Nye's Magicake Aqua palette.
8 – Tiger Stripes: Luckly the stripes for a tiger don't have to be perfect…just aim to make them as symmetrical as possible. I used Ben Nye's Magicake Aqua palette. Its a really great product for costume make up.
9 – Eye Liner & Faux Lashes: As for the eyes, be generous with LOréal Gel Liner. The more the better and exaggerate the wing at the end of the eye & center of of the eye.You must – must apply falsies for the full effect. I love these Ardell's lashes. Double them up if you have to! Use lots of you fave mascara! I used the classic by Maybelline Great Lash.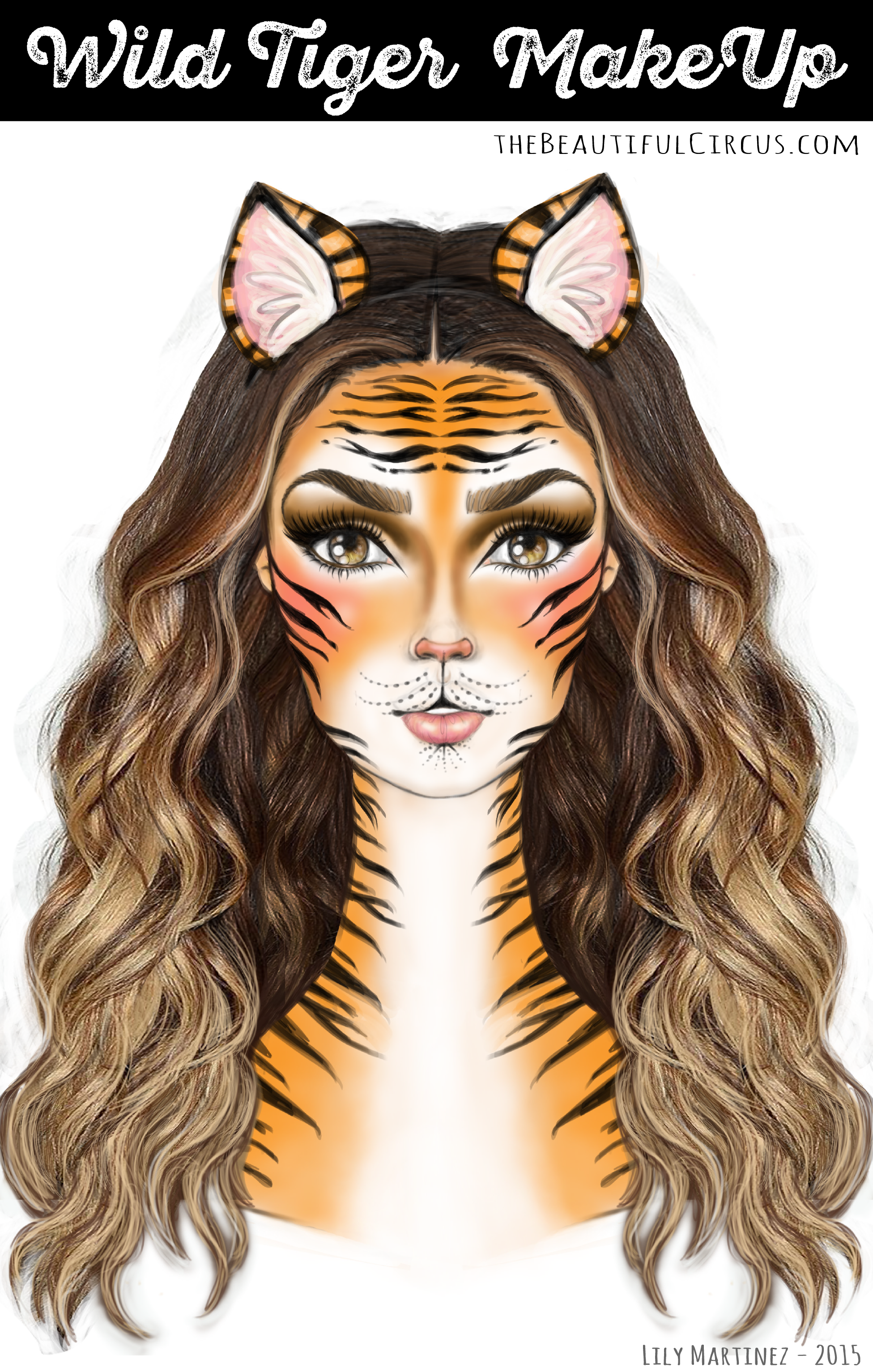 Rawr!! There you have it…final touch is your hair be as messy as you like…WiLD as possible!!
Hope this was a fun how-to costume tutorial and you dare to be a Tigress this Halloween…you Wild Tiger you!! (lol)
RaWR!!!
. . . . I mean..
Cheers!!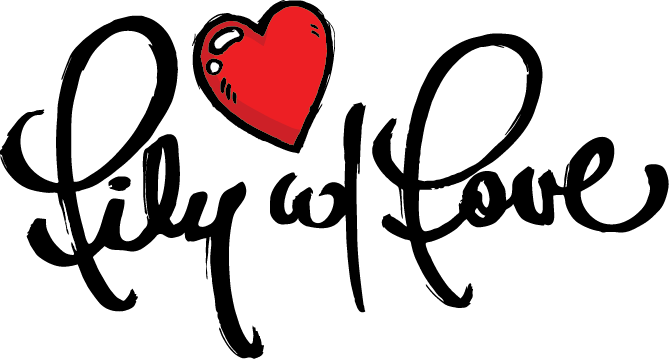 Ears: DiY / similar here
Dress: Charlotte Russe / similar here
Necklace: J.Crew / similar here
Belt: eBay / similar here
Shoes: ASOS / similar here