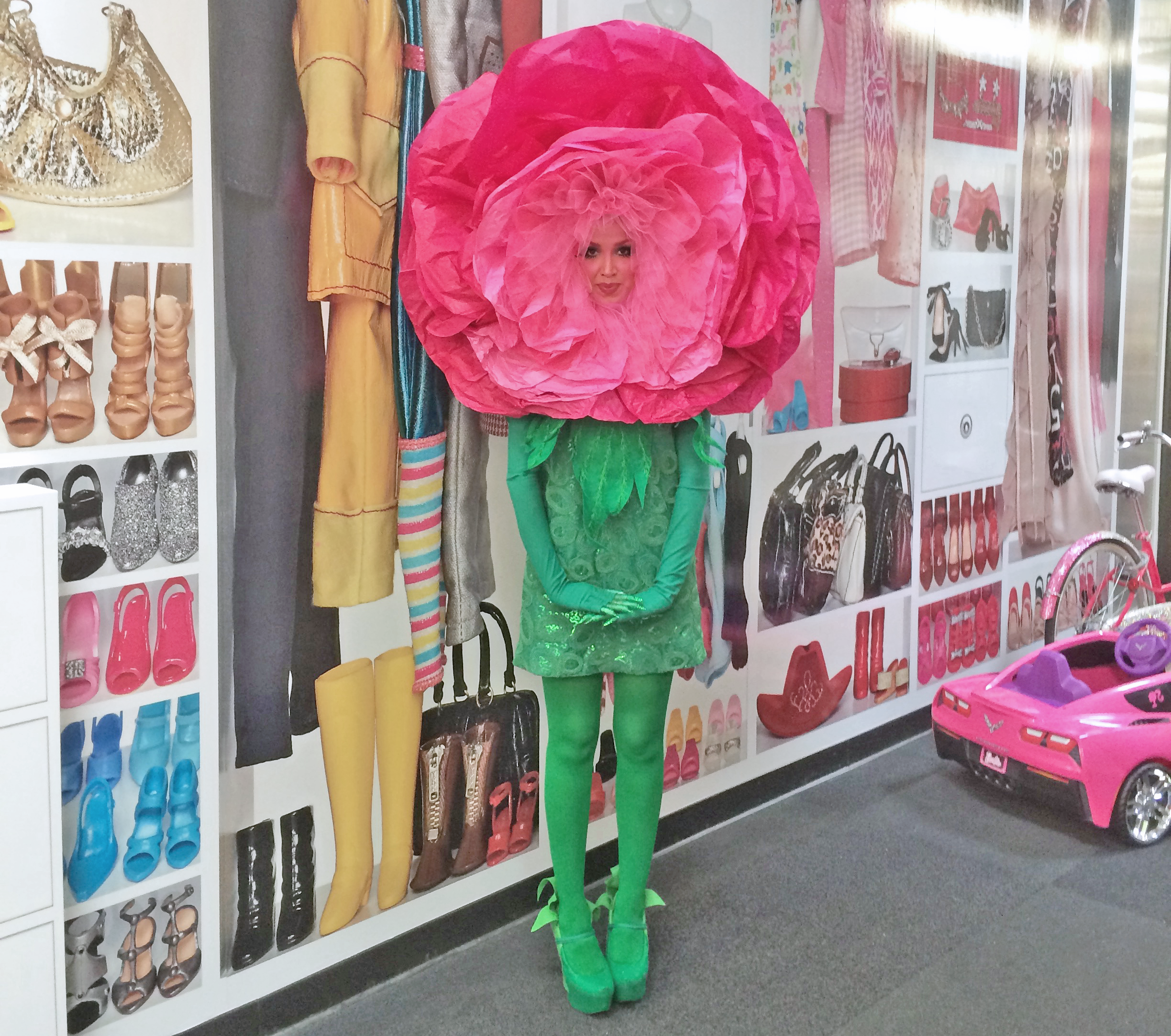 The Flower Face Costume I wore two years ago to my old company's Halloween festivities, has to be one of my all time favorite costumes I've made. It was fun, dramatic, feminine, & comfortable, yet a very simple concept…a flower ?.
When I finally decided I was going to go for it, I started to think how the heck was I going to make this work, honestly I had no idea how I was gonna pull this off!
In the end, it all came together and I had a fun costume that had all the elements I initially strived for. Below is a short how-to for the flower face part of the costume. For the body, I used all the green I could find…green dress, green long-sleeve shirt, green tights, green platform shoes, and green glittered fingers.

I was really inspired by the flowers in Alice in Wonderland the original animated movie and more so with Tim Burton's version of the movie. He had all kinds of flowers come to life. I just loved it.❤️

Little Selina wasn't even a year old…and I'm sure she was already thinking her mom is crazy! ??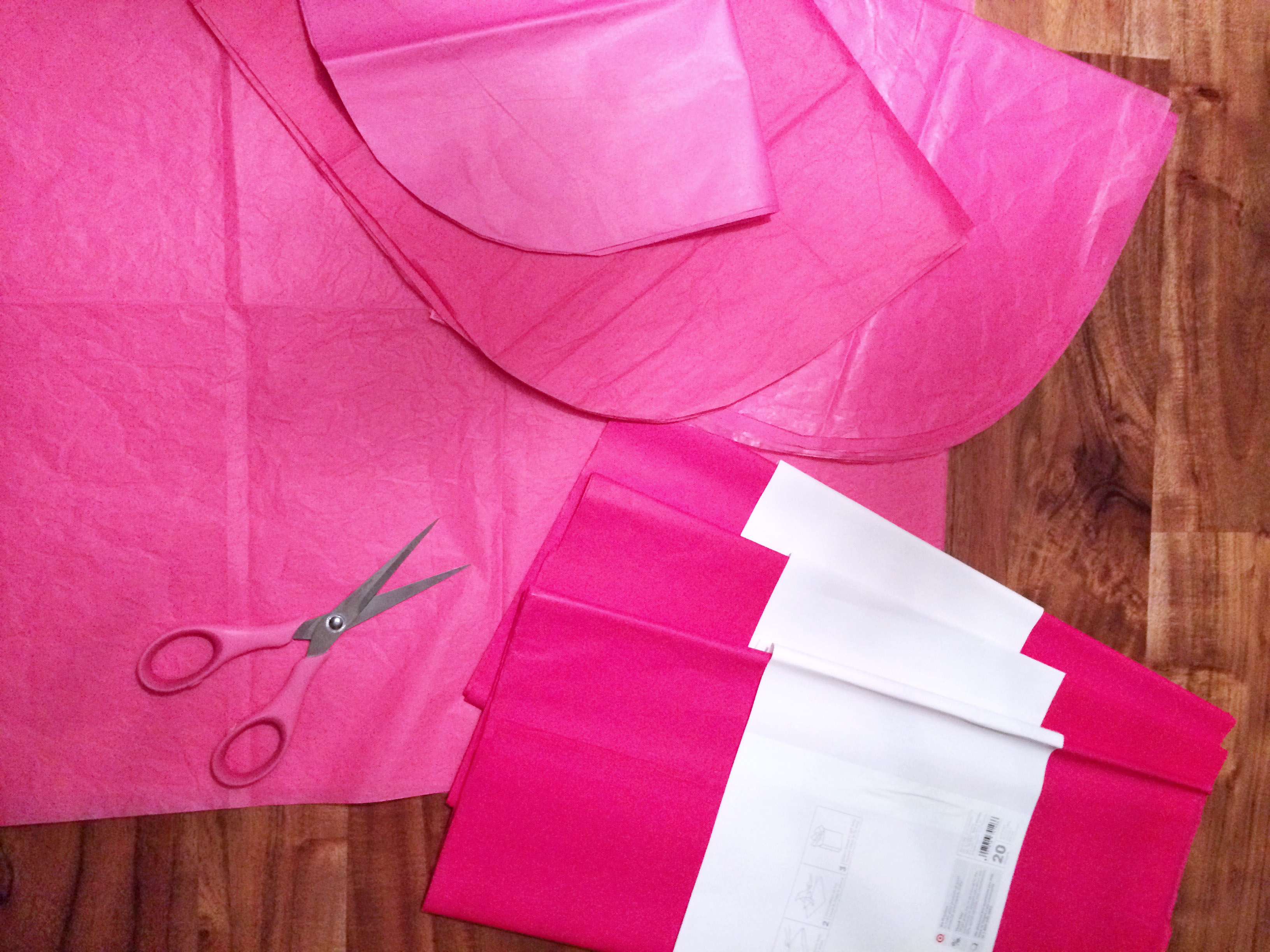 Not all the materials are shown in this picture, as this was 2 years ago and I didn't realize I would have a website back then to share…had I known I would of taken more pictures of my process ?
Gift tissue paper was the main material for this costume. I used different shades of pink to give my flower more depth & dimension. You can pick any color really, I just found that pink tissue paper is easy to find and in different shades, so the easier the better.
Here is a list of the materials I used for this project (flower head only):
• different shades of pink tissue paper (and lots of it)
• pink tulle (optional)
• pink thread
• scissors
• thick pink fabric with some stretch (for head cap)
• 2 or 3 pink buttons
• cord elastic (for loops to wrap around buttons)
• hot glue gun & glue sticks
• paper ache balloon OR foam head form
• green felt (for leaves)
• green novelty trim (for leaf details, optional)
I created a pink cap like this. I used a paper mache balloon I had lying around in my craft room to use as a stand-in head as I made a pattern and subsequently the cap. I've since bought a foam head from the craft store to help me with these silly projects of mine.
I made my cap quite fitted and it wrapped around my neck. I used the buttons & elastic loops to fasten it from the front.

1. I started by cutting the tissue paper into large petals, then medium petals and small petals. Each size had its own shade of pink.
2. I then shirred each petal using a sewing machine. It went quite fast once you got the hang of it. Tissue paper is quite strong actually, if handled properly.
3. These are some of the petals shirred and waiting to be attached
4. More petals all stacked up, I can already see the color gradient and I love it.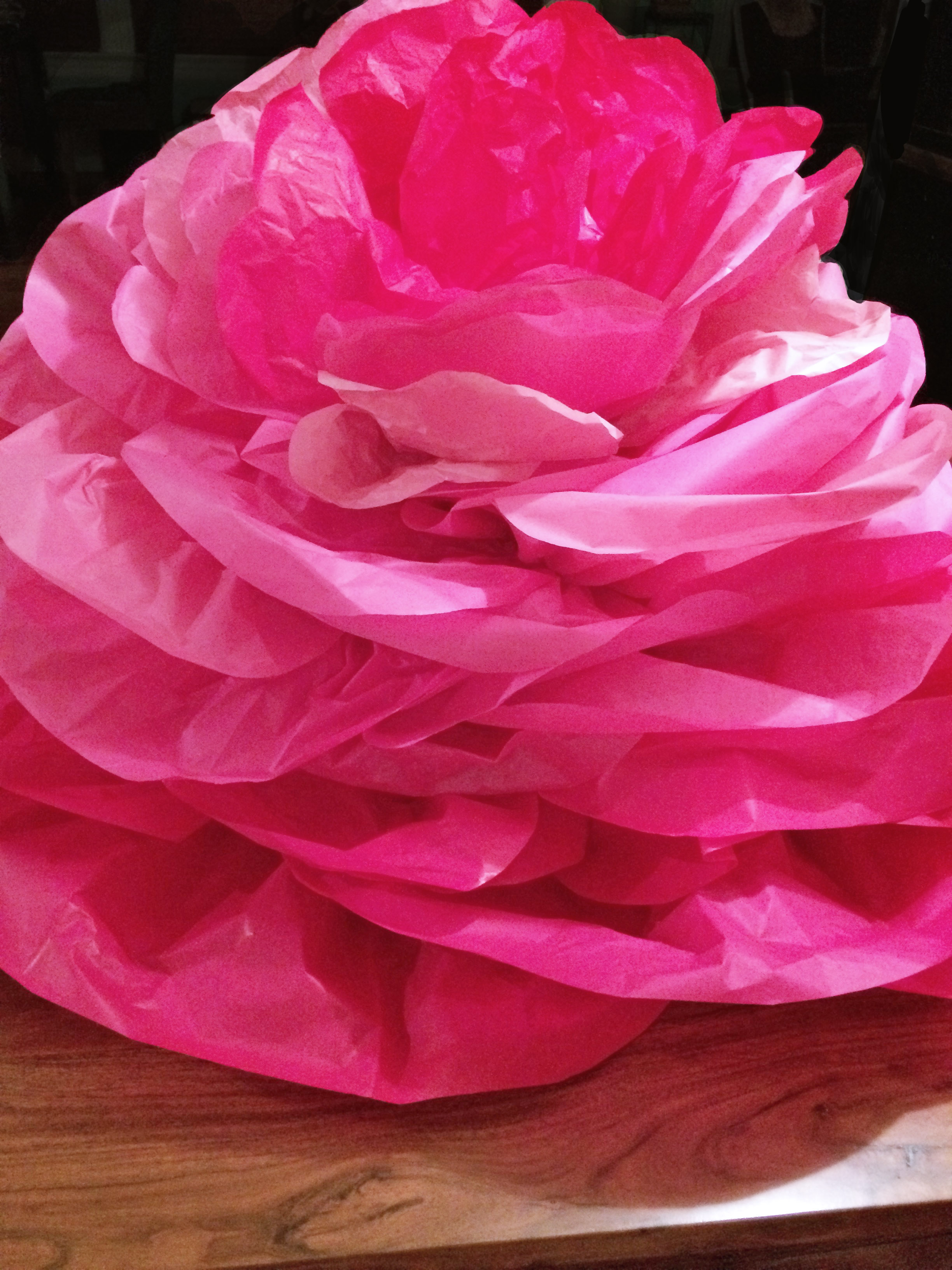 Here we have about 12 layers or so of petals. I also used shirred tulle petals for around my face. You can probably skip this step if you like. I liked the sheerness around my face and it blended really well with the tissue petals.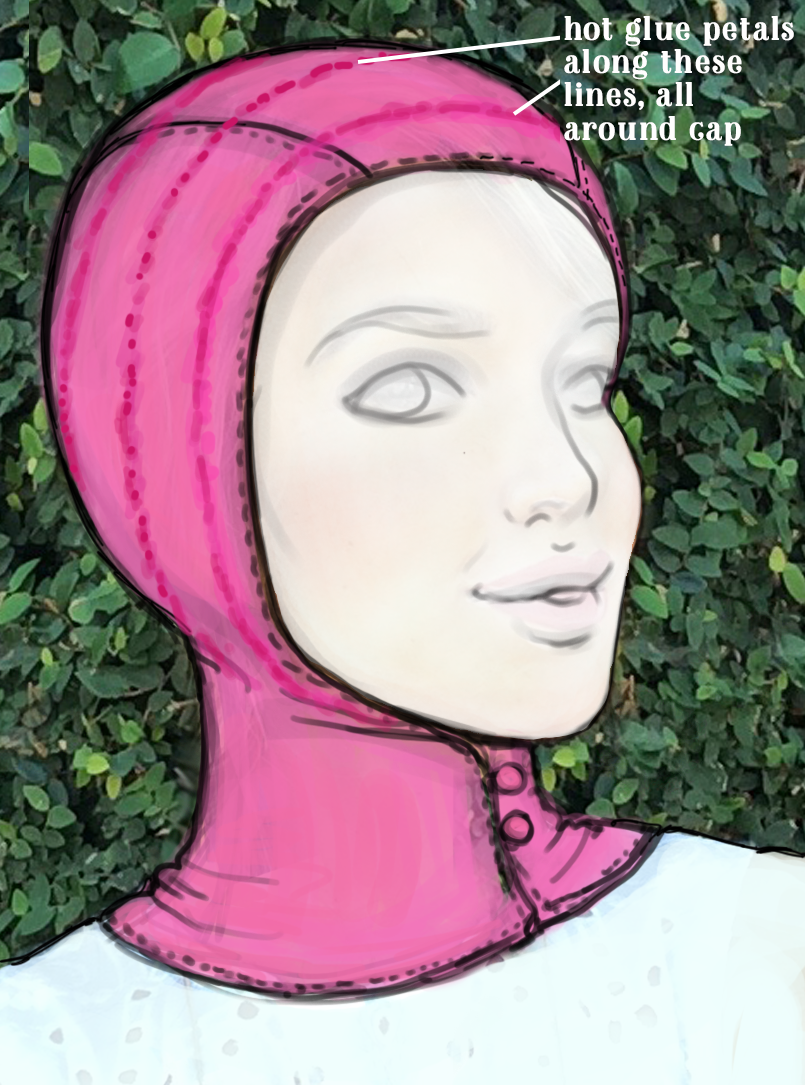 Using the paper mache balloon form or a foam head form, put the cap on it. In this picture I've marked where you should attach all the shirred tissue petals with the hot glue gun. Be very careful during this process, it can get a bit hot & sticky. Work yourself along the lines to attach the petals. Be careful! Seriously.
Voila! Flower Face!! I did darkest pink on the back of my head to lightest pink for my face. You start to fill in any gaps you see to make your flower as full as you want it.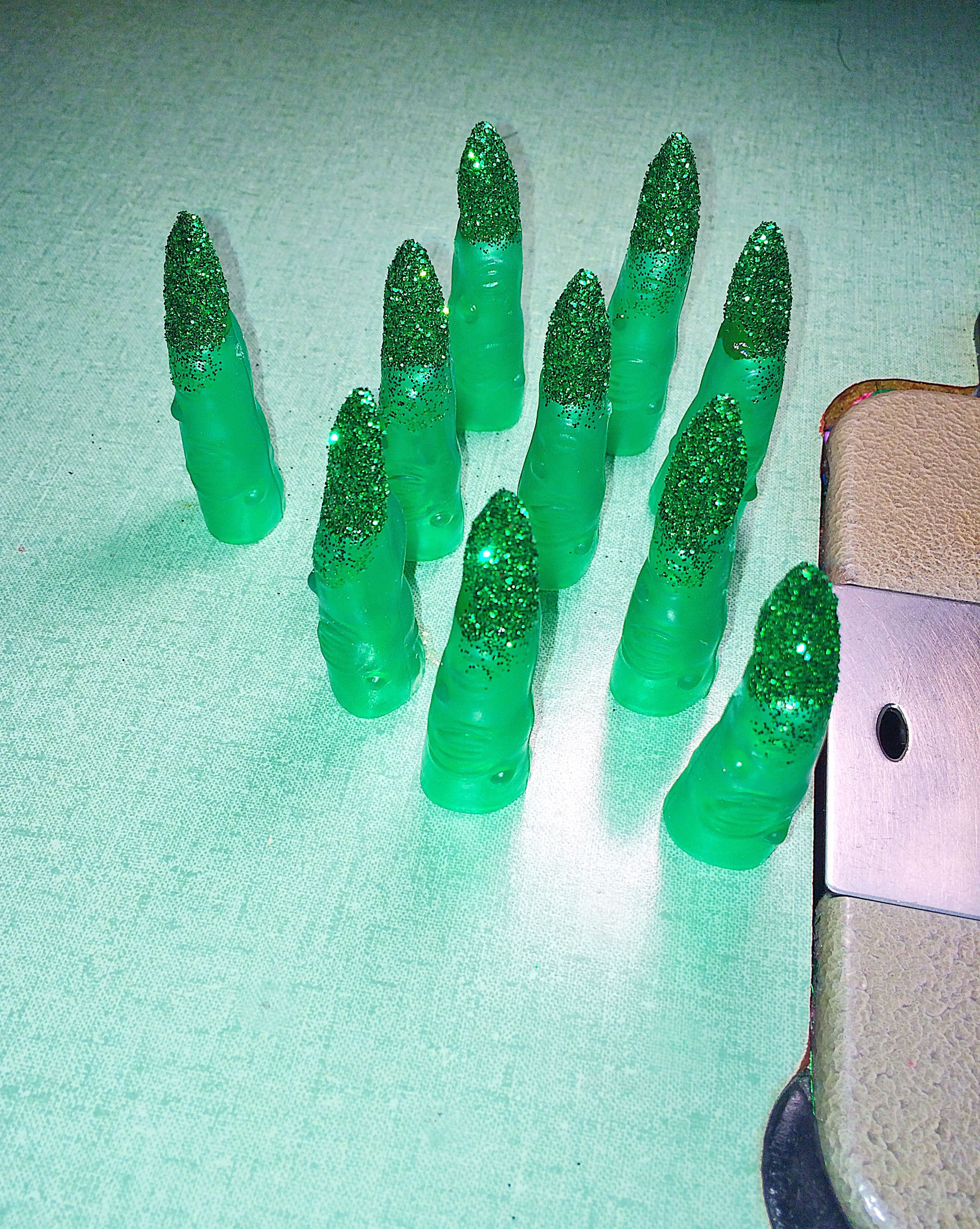 Finger details. I used kid's party witches fingers and added some nail polish & green glitter for sparkle.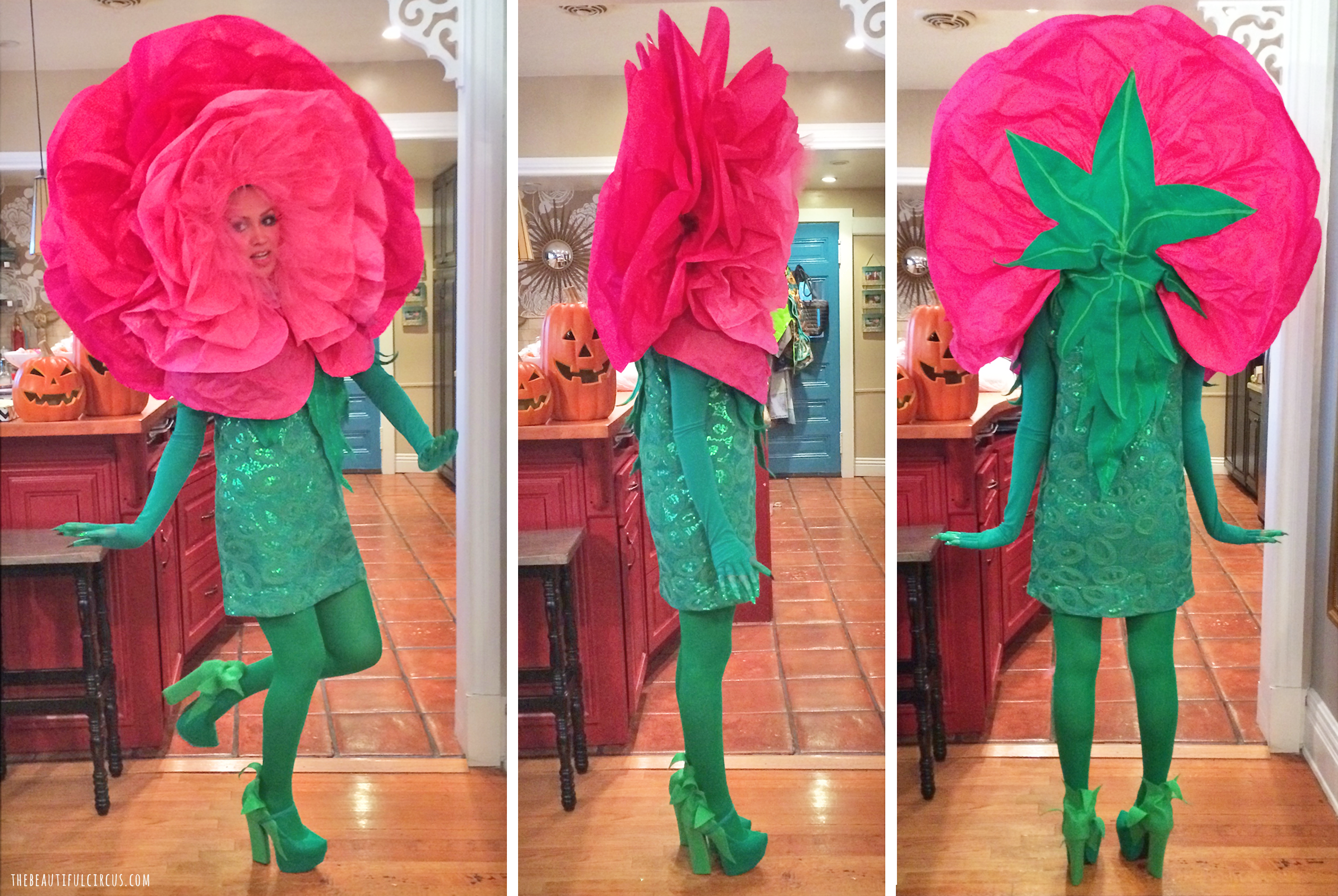 A front, side, and back view of my Flower Face costume! The green felt was cut to look like the leafy part of the flower. I also cut out some green leafs and attached them around my neck to look like those leafy things around the base of flowers.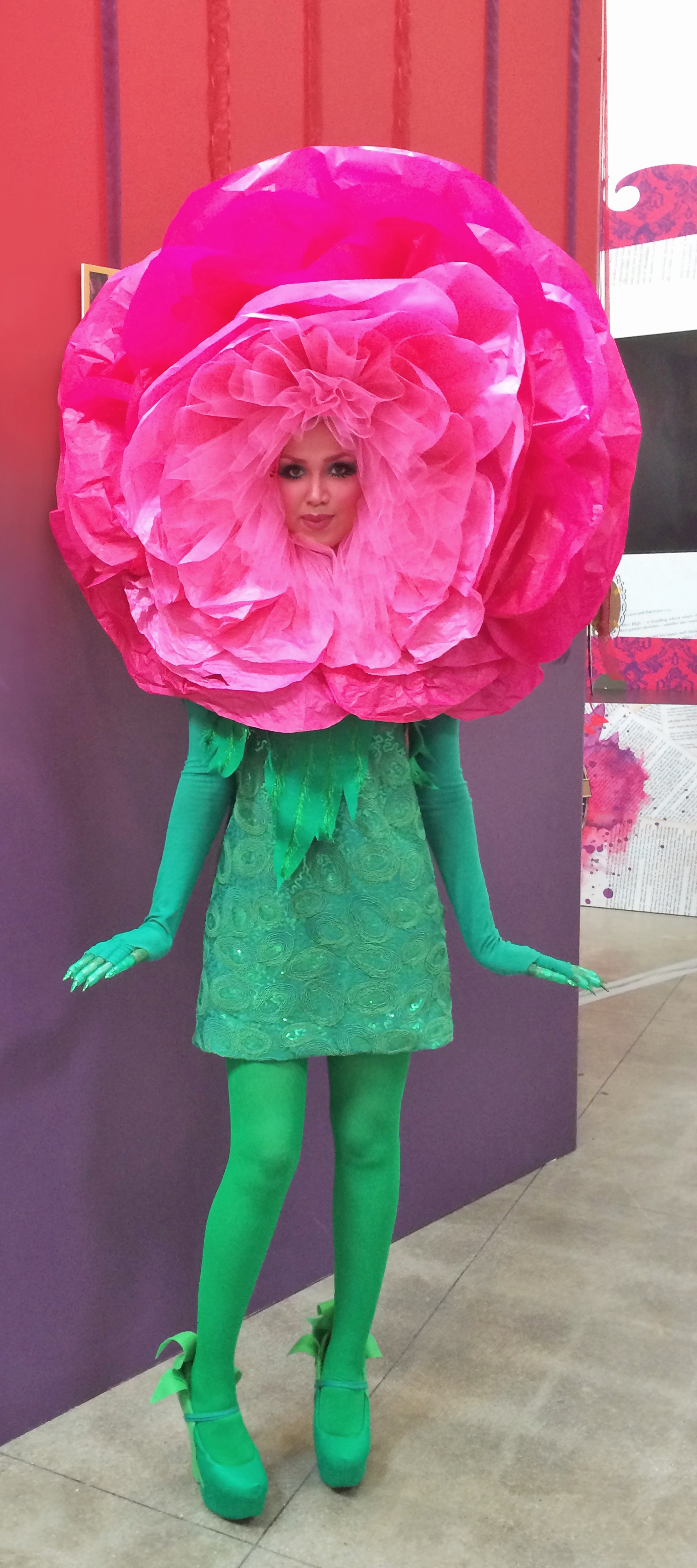 That's a quick look on how to achieve a Flower costume this Halloween season. It took me roughly a full day or so to complete my costume.
Hope you enjoyed it and remember don't forget to stop and smell the roses! ??
Cheers!