During last year's Halloween, I wore this (last minute) deer make-up for the kid's Halloween party and received lots of comments on Instagram about it. So I thought I'd kick off this Halloween season with an easy step-by-step how-to deer make up with some quick sketches I made & the make-up I used.
Check out the step by step below and you will see how easy it is for you to do at home. The only thing I was missing with my last minute costume was the ears! ?

First I started with the inspiration…a deer fawn. It has its white polkadots on its body, not necessarily the face, but for costume make-up, it helps with the effect I suppose. I focused in getting the white around the eyes and mouth. Focusing on lots of eyeliner and glam lashes. Lipstick is dark to mimic the snout and I used lots of blush to convey a very feminine look.
1 – Foundation: Apply your favorite foundation and light powder if you like. I used LOréal Visible Lift in Sun Beige.
2 – White Make-Up: Then apply the white cream like make-up with a sponge around the eye, under nose and the nose bridge. I used Make-Up Forever Flash Color Case.
3 – Tan Make-Up: With a wide brush, be very generous with your choice of bronzer applying on above forehead, sides of the face, cheeks, chin, sides of neck. I used Milani Baked Bronzer.
4 – Blush: Apply your favorite blush, and lots of it, with a blush brush.  I used MAC Cosmetics blush.
5 – Nose & Lips: I used cream/gel liner by LOréal Gel Liner in Blackest Black to draw a cute and dainty deer snout on the under tip of the nose. Use the same black gel to draw & fill your upper lip only. For the bottom lip I used a brownish lip color, NYX Matte Lip Cream in Zurich.
6 – Brows & Eyeliner: Apply make-up to your eyebrows how you regularly would. I use Maybelline Expert Wear Brow Eye Pencils. For extra brow drama, I also used Anastasia Beverly Hills in Chocolate. As for the eyes, be generous with LOréal Gel Liner. The more the better and exaggerate the wing at the end of the eye.
7 – Faux Lashes: You must apply falsies for the full effect. I love these Ardell's lashes. And use lots of you fave mascara! I used the classic by Maybelline Great Lash.
8 – White Dots: Lastly, applying the dots with the ball of a make-up brush sit it into the white cream make-up used at the beginning.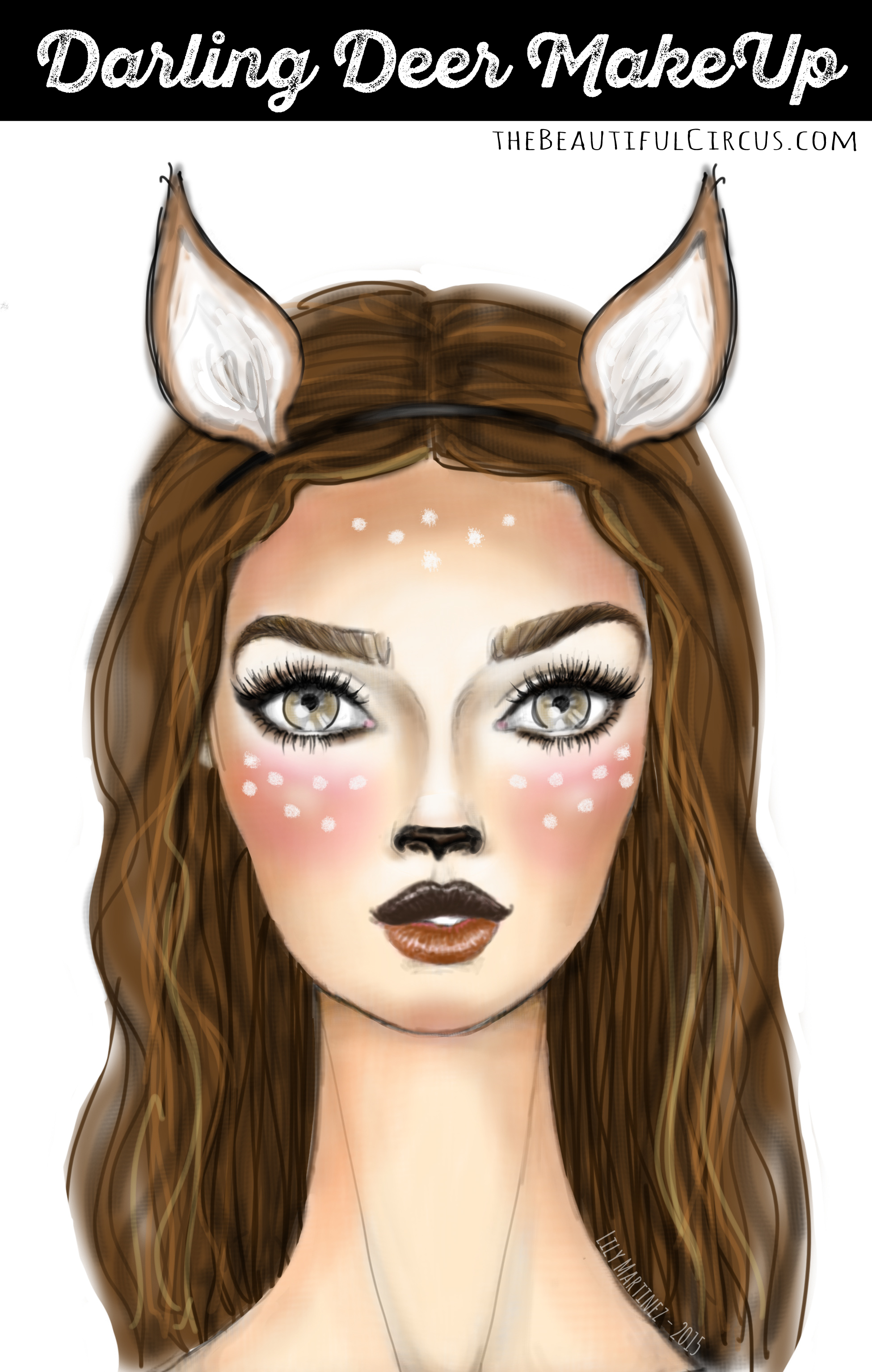 Ta-Da!! Pretty easy sweet Deer make-up!
Best part? Hanging out with my little sis Julie & goofing off with our quick Halloween Make-up. Hope you consider this make-up as a fast and easy solution for a last minute Halloween costume….but don't worry you still have some time!
Next week I'll do a little more complicated make-up/costume for you! Are you up for it? ❤️
Ps.-don't forget to let me know any requests you want to see for a costume…I'm gonna pick one in a few weeks to do! ?
Cheers!!