Now that I am a working from home & a stay-at-home mom, I always strive to find balance and of course be as productive with my time as I can.
But primarily I wanted to be at home to spend good, solid, quality time with my kids. Especially my youngest daughter, since she is not in school like her 3 brothers yet. Time Well Spent with her is everything to me.
Lollipops at the park on a chilly afternoon are as perfect as it gets for me. I feel so lucky to be partnering with Citizen watches and share with you how I spend the time I treasure the most and to reward two beautiful Citizen watches (this gold one and the white one from my first Instagram post) with the Eco-Drive technology to my awesome followers.
What is the Eco-Drive technology? It's actually pretty awesome! The watch is powered by light! There is no need to ever change the battery! For me that is a perfect match, beautiful and practical!
I have various trend watches that after a year I have to replace the battery, by the time I take myself to replace the battery, I'm over it!
These watches are timeless, classic and chic. They are officially my everyday use watch and honestly I couldn't be happier not to worry about the battery life! They are gorgeous and practical!
Spending the afternoon at the park with cozy sweaters and my Citizen watch, I will always be warm and never loose track of time!
Keep reading to find out the winner of my Instagram giveaway!!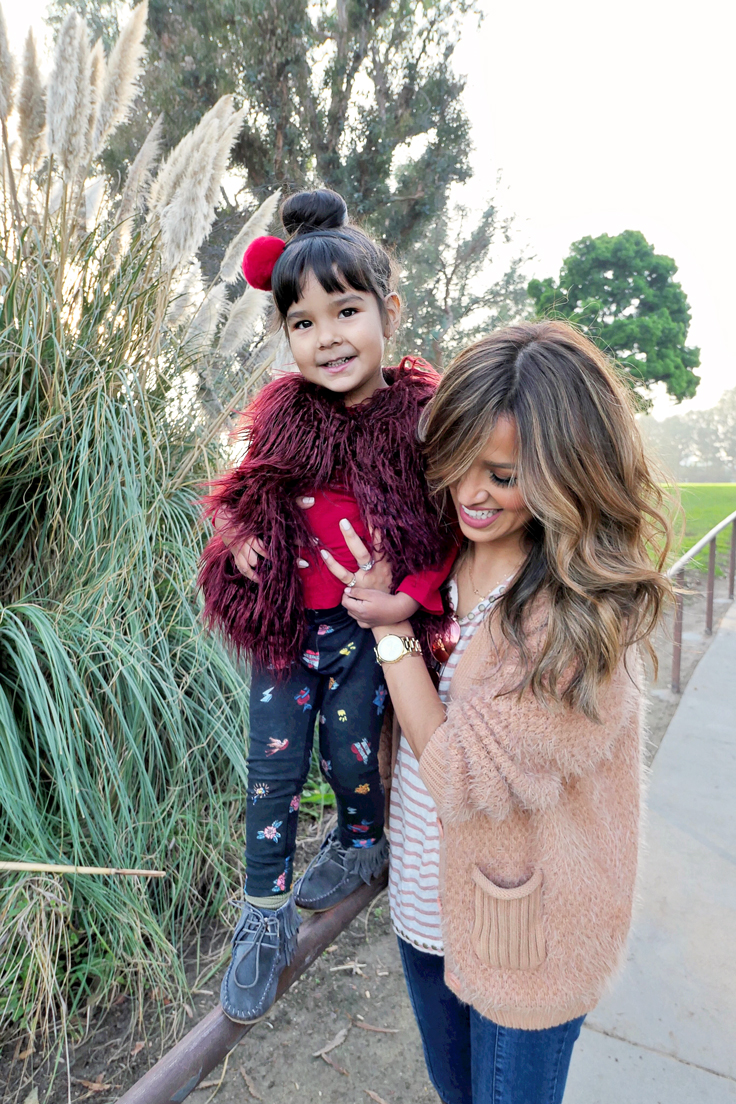 Balancing everyday tasks is an art form! Hence I'm obsessed with time and time management! I have a clock in everyroom in my house! Including the bathrooms and laundry room! LoL!
Now I feel I also have a reliable watch on my wrist to keep me right on time!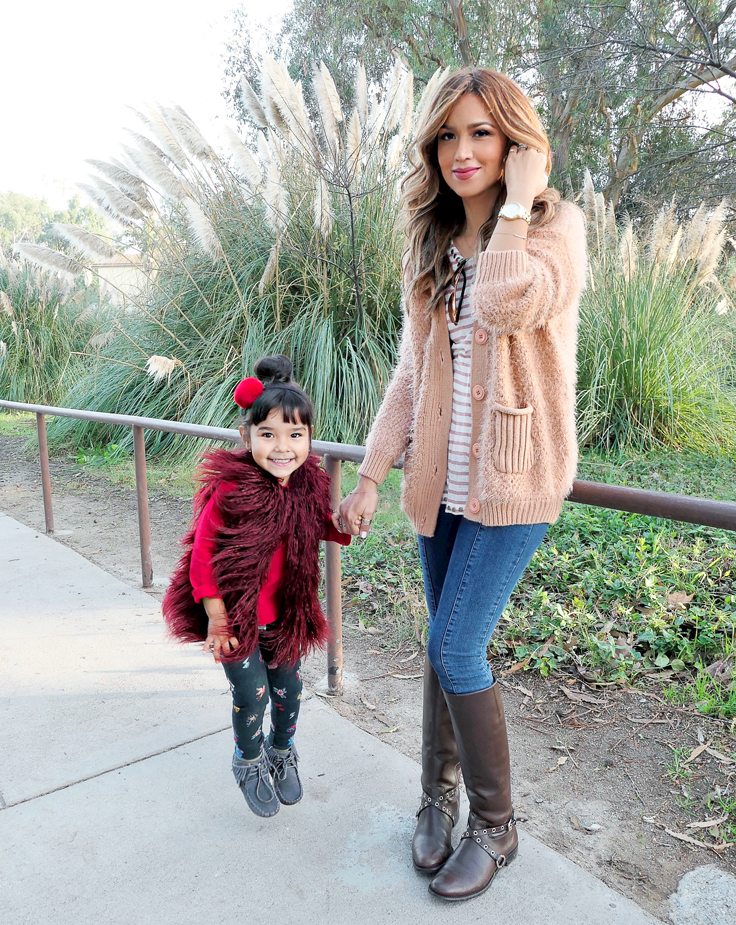 Jumping for joy! She almost looks like she is floating! Love my little SeliBeli!❤️
We call each other best friend and when she is ready to sleep, she says I'm her bed and I tell her she is my blanket. Thats the fastest way she falls asleep, when she is literally on me! lol…like a mommy bed. She is getting too big, to be comfortable, but we both don't mind.
Cuddles are always time well spent.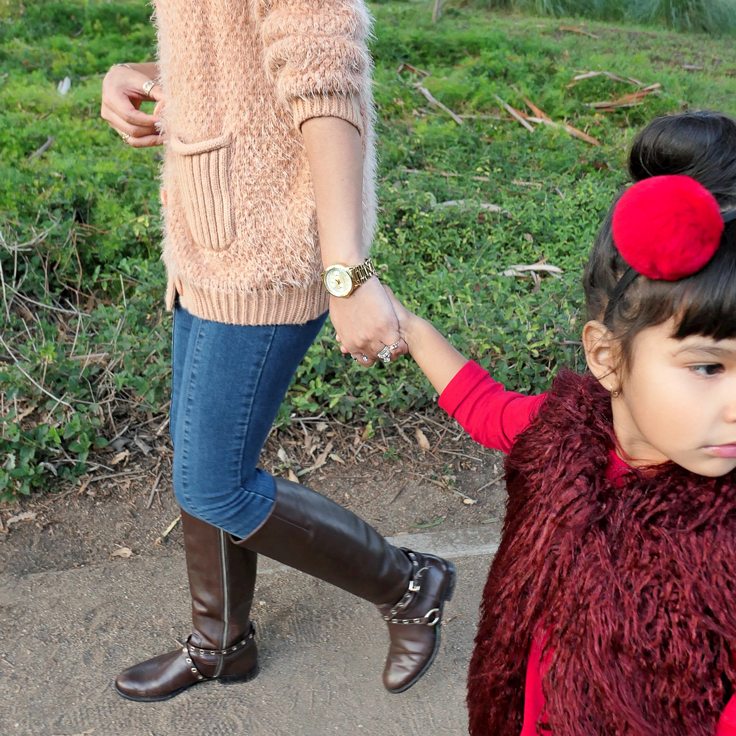 I truly believe in the message Citizen watches is communicating…Time Well Spent. This is why I was so honored they wanted to collaborate with me for this giveaway and excited because whoever won these watches would love them as much as I do!
Thank you so much for everyone who nominated the wonderful ladies in their life that inspire you. I was simply blown away by all the candid and very personal stories you shared on the comment section of my Instagram to enter this giveaway. You guys are all amazing and it was extremely difficult to pick just one winner. I didn't expect for this giveaway to be so heart-wrenching and I didn't want to disappoint any of you. All your stories meant so much to me. I was truly moved by them. . . stories of survival, hope, gratefulness and sheer unconditional love for these incredible people in your life. Really touching and made it so so hard for me to pick one winner.
But without further delay…
The winner is: Tania Garcia!! Who nominated her sister Roxanna.
Roxanna has made it her career to fight for immigrants and help victims of sex trafficking. After I DM'ed them thru Instagram to let them know they won the giveaway, I got to chat with them both a little further. And their story is truly remarkable. Roxanna not only has dedicated her life's work to helping people in need, who may not feel they have a voice, but she herself has gone thru very personal turmoil this year that has challenged everything she thought she knew. She felt that the symbolism of the watch was beyond the literal meaning, but more a reminder that it's in God's time how things should happen.
As for Tania, she is not planning on keeping the watch, but plans on gifting it to a mother she follows on Instagram who lost her 6 year-old during the New Town school shootings 4 years ago.
Wow. So touched by that. I heart these NYC sisters!
Can't wait for Tania and Roxanna to receive their watches and hopefully tag me on Instagram so I can see! I know you will love your new Citizen watches with Eco-Drive technology as much as I do! They are beautifully crafted watches with elegance and design.
And of course, Thank You so much ladies for sharing all your wonderful stories. ALL of them and I mean all 45+ stories I read (several times too) of these amazing women. That by the way all shared something in common…they are all strong women, despite the serious challenges, roadblocks, and bumps in life. They were all inspiring, dedicated and supportive women. I'm so proud to be part of this Instagram community and able to partner with generous and awesome companies like Citizen and interact with the sweetest people on Instagram. Thank you from the bottom of my heart for allowing me to hear your story. I was completely left inspired.
Time to call, my mom, my mother-in-law, my sisters, my friends, my cousins and all those amazing ladies in my life and set up some quality time with them! Now, that too, will be time well spent!
Thank you Citizen!!
Happy Holidays everyone!
Cheers!