So happy to share with you my Make-Up Must Haves!!
When I find something that works for me, I stick with it. But if someone recommends me something better and surpasses the product I'm already using I do try it out. Now, keep in mind I'm a thirty-eight(ish) year old mom of 4… my skin isn't what it used to be (fyi-soft brush photoshop for these pics – wink wink – lol), so my criteria for good product is very specific: I want make-up to stay put & deliver good coverage that will last all day. Thats a tall order for all the products I use, but I think I have discovered the best of the best for my skin texture, tone and make-up style.
Check out my make-up picks below and you probably already have some of them in your make-up bag, some are true classics.

M.A.C. – Pro Longwear Concelear – NC35 / Why I Love: I've tried countless concelears in search of the perfect one and after comparing notes with other make-up lovers…this is it. They love it as much as I do! Light weight but with the best coverage and stays on… like forever! You will need make-up remover to take it off. But it's still an essential product when I wear full make-up. A true Must-Have!
M.A.C. – Studio Fix Powder – NC35 / Why I Love: An old classic for me. I have never found a powder that has such fantastic coverage as this. Mind you, for best results you need well moisturized skin & foundation. I apply this product with a brush and do touch-ups with the sponge it comes with. It has a matte finish and it's not translucent, I'm okay with that because I have tons of soft freckles all over my face…this powder covers them all off my face! It's that good.
Ben Nye – Classic Lip Pencils – Brandy / Why I Love: I've also searched high and low for the perfect lip liner ever since I can wear make-up. Needless to say, my favorite lip liners have changed through out the years, mainly because of make-up trends & my age (I can't possible pull off purple lipstick these days) Anyway, this Ben Nye lipliner in Brandy is a universal lip-liner for me, I use it with most of my lipsticks. I can go subtle with it for a more natural look or darker for more dramatic color. All with one lip liner! 
Ben Nye – Mojave Poudre Palette / Why I Love: This palette is awesome. It's extremely flexible in it's uses. I love all the shades of brown. Again, I can go natural to more dramatic (layering the different shades of brown). This is a must for any make-up lover. Ben Nye also carries many other color palettes that you will fall in love with too. The blush palette is fantastic as well.
Ardell Lashes – Duo Brush-On Adhesive / Why I Love: I used to use the black color adhesive that you squeeze out of the little tube, use a toothpick to apply to my lash and wait too long to apply. Then I stumbled upon this formula and applicator and I'm so in-love when I apply falsies, because it's SO easy now. It's precise, light and dries clear. If you are into false lashes like I am, this is the adhesive you need.
Ardell Lashes – Multipack Demi Wispies / Why I Love: Great value and a great lash. Love that they are dramatic, but not too much. The design pattern of these lashes is natural looking and makes any eye just a little more glam. Great for traveling!
Ardell Lashes – Brow Sculpting Gel Clear / Why I Love: This product grooms my brow hair right where I want it to be. I have also used it to set my wispy baby hair in place. Love that!
Maybelline – ExpertWear Twin Brow – Light Brown / Why I Love: I looked forever to find the right brow pencil. Tried many many products and I always come back to this one. For me, it's the perfect color and texture that I like to shape my eyebrows. I pray Maybelline never ever discontinues this product!
Maybelline – Great Lash Waterproof Mascara – Very Black / Why I Love: Oh boy! Lets talk mascara. Again, tried many many mascaras, the $30 mascara (you know who you are), mascara with fibers, & mascara w/different wands, plus more…I mean everything! All of those expensive and gimicky products are a waste of money in my opinion. I have the shortest & most stubborn lashes that don't ever want to curl (eyelash curlers are a whole other dilemma I got going on right now, but will share favorite Make-Up Tools in another post) Anyway, my eyelashes are terrible…(hence falsies). So I have been in a perpetual hunt for the perfect waterproof mascara. And I found it..several times actually…but Maybelline discontinued them all!! Don't you just hate that feeling when a favorite products is no longer going to be made? I do, but one must move on…and I have since I haven't found any other mascara that compares to my past favorites, but this classic (waterproof) Maybeline Great Lash comes pretty close. 
L'Oreal – Infallible Lacquer Liner 24H – Very Black / Why I Love: I only know this is one of my favorite eyeliners because I've tried many  many different types and brands. I'm definitely a creme eyeliner fan. It's the truest black, has great consistency and I love the control I have when I draw my eyeliner. 
L'Oreal – Brow Stylist Plumper / Why I Love: This is a newly discovered product that I love for the simple fact that it does what it says…makes my brows appear thicker. I love the contrast this product (in medium brown) gives me over the brow pencil I use in light brown. Let's my brows have dimension versus brows that are drawn in and may look flat. (if that makes sense)
L'Oreal – True Match Luminous Foundation – Sun Beige / Why I Love: Good coverage, reasonably priced, and it matches my skin color! I'm not a huge foundation person, but it helps with my MAC powder coverage…so primary I love it because it matches my skin color. 🙂
NYX – Soft Matte Lip Cream – Sao Paulo / Why I Love: I think this is a fan favorite of many people. If you don't have one, go get one and try it out. Instant matte color! Takes me back to my teen years!
BECCA – Afterglow Palette / Why I Love: Jumping in the band wagon with the whole highlighting trend. If you are going to get a highlighter, this is it. Has several shades and fun to play with. I only use a light dusting on my cheeks and tip of my nose. But I usually use it for at night events, when I do a full make-up face.
Milani – Rose Powder Blush – Coral Cove / Why I Love: Blush is A MUST for me. I'm obsessed with blush and it's a signature look for me. I probably wear too much blush, but everybody is too nice to tell me I have too much on. I don't care, its what I'm going for….a nice faux natural look. Anything to mimic me capturing my youth! lol! – Anyway, this has good pigmentation and I'm loving the shade of this blush. But I have many favorite blushes & different colors. It was hard to pick just one. 
Milani – Baked Bronzer / Why I Love: Always come back to this one. I must have atleast 3 or 4 of these bad boys. All time favorite bronzer. Gives my skin a healthy glow, especially over the matte powdered foundation from my MAC products.
Yves Saint Laurent – Rouge Volupte Shine / Why I Love: I discover this lipstick from my sister Julie, it's one of my instant favorites. I'm not one for shiny lipstick (Matte Girl in the house), but this lipstick is beyond. I love everything about it. The price not so much, but it is w o r t h every penny! The color, the smell and the way it moisturizes your lips…you will feel fancy!
Urban Decay – Naked Shadow Palette / Why I Love: Classic. Thats why they came out with two more of these and a bunch of brands copied them with naked palette collections. Hands down this is all you need when it comes to eye shadows.
Physicians Formula – Powder Palette Multi-Colored Blush – Blushing Rose / Why I Love: Another favorite blush. This has a little more of a natural tone and I like to use it on my bare skin for a little color.
Anastasia – DipBrow Pomade – Chocolate / Why I Love: This is a great product for eyebrows. I use it to finish shaping my eyebrows to help define them even further. Love this stuff!
Bare Minerals – Mineral Veil / Why I Love: The final touch. I tried their regular powder foundation, and all thought it had good coverage it had a sheen to it…making my skin look like tiny fish scales. At my age, shine of any kind is not good. It highlights all the little wrinkles! But this mineral veil is the exact opposite.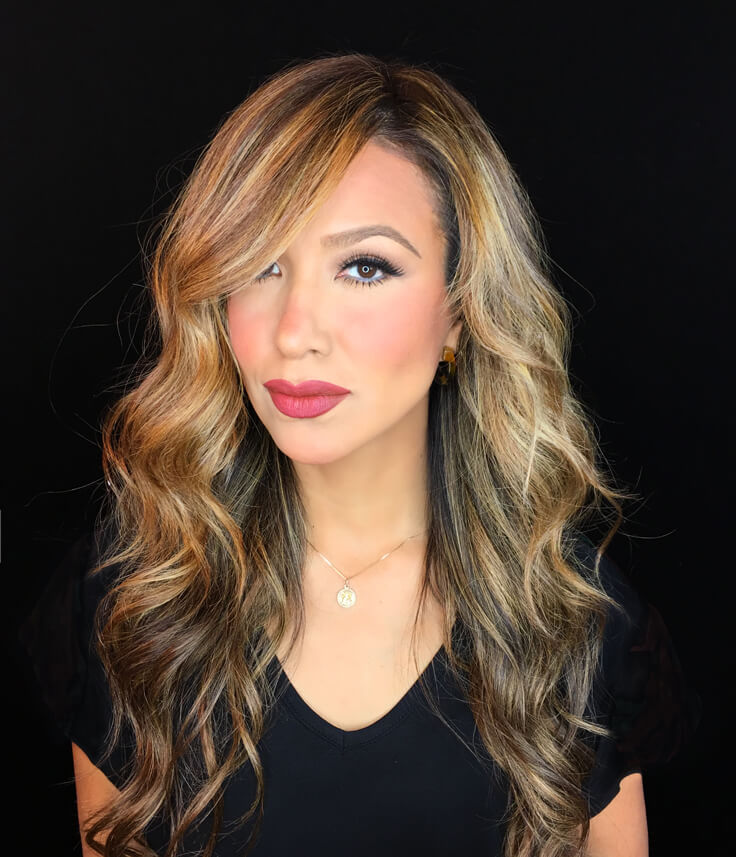 So as you can see, I truly love make-up and how make-up makes me feel. I'm in the camp that make-up is transformative and has the power to make you feel better about yourself. Make-up is a form of art and a unique way for self-expression. I love that.
Make-up however is not a miracle. Make-up looks best when you take care of your skin. That means, lots of water, sun protection, don't sleep with your make-up and always be consistent with your daily & nightly cleansing routine. Your skin…and make-up will thank you!
Hope you liked this post, please let me know what are your favorite make-up products you would recommend. I would love to try them out! I look forward to posting about new products, my skin care, and my favorite tools. More to come!
Lastly, this post is about make-up I actually have been using for years and truly love. I would never post something I don't use in my real life. This is not a sponsored post. If it was, I will always let you know that it is.
Know that when I do create sponsored posts…they are always of product I love, use and would actually recommend even if it wasn't a sponsored post.
And with that…have a wonderful weekend! XOXO
Cheers!!