My boys have been asking me to re-decorate their room for a little while now. So, when the opportunity to partner with Target & their new home decor collection for kids, Pillowfort – it was easy to be a part of it! We chose to start with redecorating Noah's bedroom space by picking several items from two of Pillowfort's collections: Camp Kiddo & Explorer's Escape. So perfect for my little Happy Camper! Below is how I mixed and matched these items and DiY'ed some ideas I had been thinking about for his room. Also check out below their incredibly adorable and awesome collections for kids that fit all their little personalities and reflect their very unique ways of self-expression. From a Tropical Treehouse, Creative Cave, Ocean Oasis, or Floral Fields… plus much more!

Love all of Pillowforts's collections! From top left:  Marvelous Manor, Tropical Treehouse, Stellar Station, Modern Mirage, Creature Cave, Floral Field, Camp Kiddo, Discovery Den, Ocean Oasis, Grand Getaway, Explorer's Escape, Sprinkle Suite.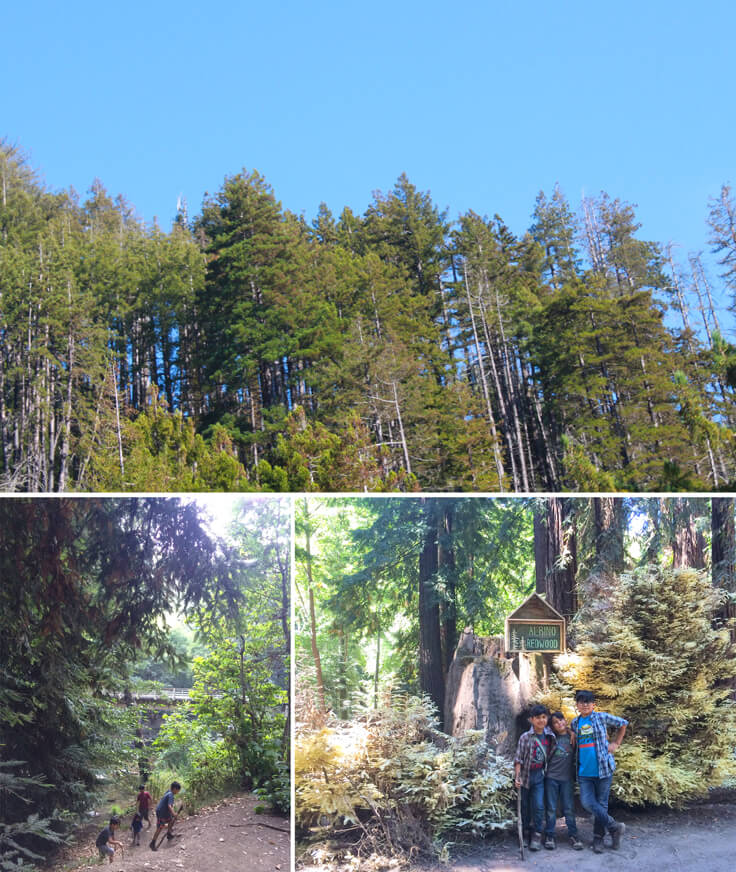 For us it was easy to pick the theme of Happy Camper because the Camp Kiddo & Explorer's Escape collections from Pillowfort really captures what inspires us when we go camping. The kids love the outdoors because they feel fearless & free among all the trees & fresh air. Building memories is what life's all about and I've always told my kids that. We treasure our time being together & one with nature. Super fun to recreate that for their bedroom!
These are the pieces that I mixed and matched for Noah's room re-do. That Fox throw pillow had me at orange! And lets just take a moment and giggle at the panda head wall decor…love! Click on each item for all the details.
Before our re-do over of his bedroom, we had a little bit of everything…kinda like a circus theme situation going on!  Wonder where that eclectic mix came from…. lol!
The After look! When the boys came back from after school and saw the new room… they loved it! All they wanted to do is hang out in Noah's room. The only request they had was not to paint the colorful stripe wall on the right. Noah said that he remembers when I painted it and that he loves it as-is. So I had to work around that, but I think it turned out good.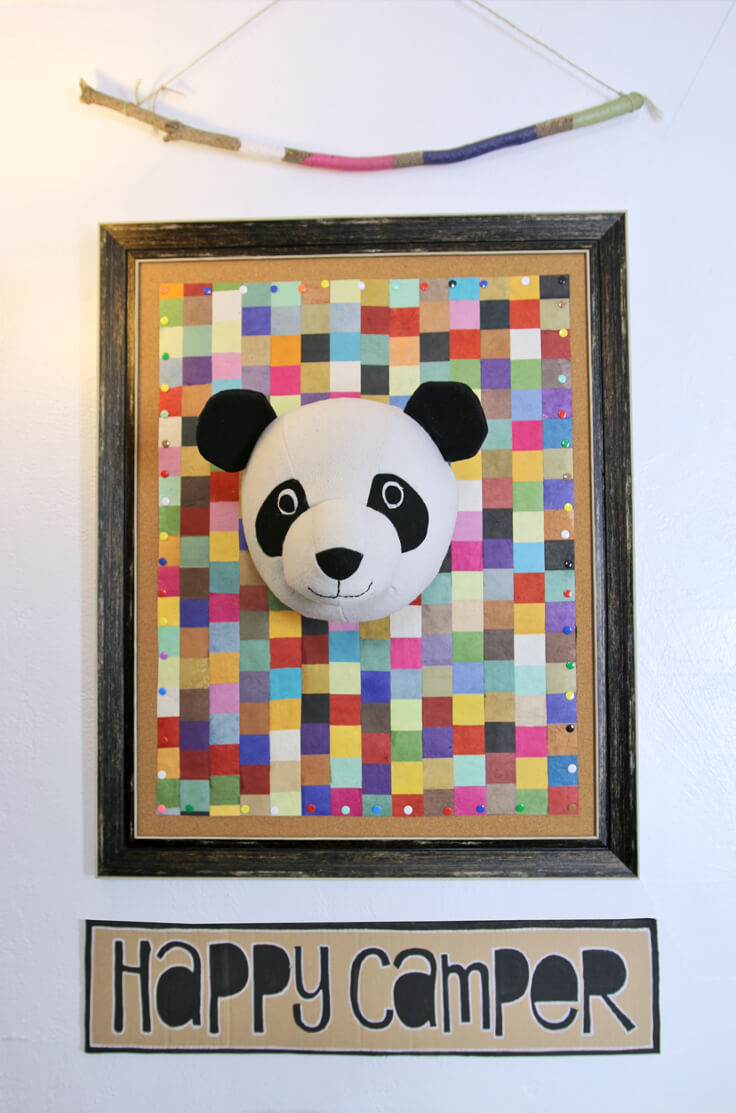 The Panda Wall Decor was one of my favorites! I decided to make it a statement piece and pin it to a cork board, while layering it with some handmade paper from my favorite paper store. I used colorful tacks to finish off the edges and Voila! a really cool wall decor piece with this very well made plush Panda head. Fun!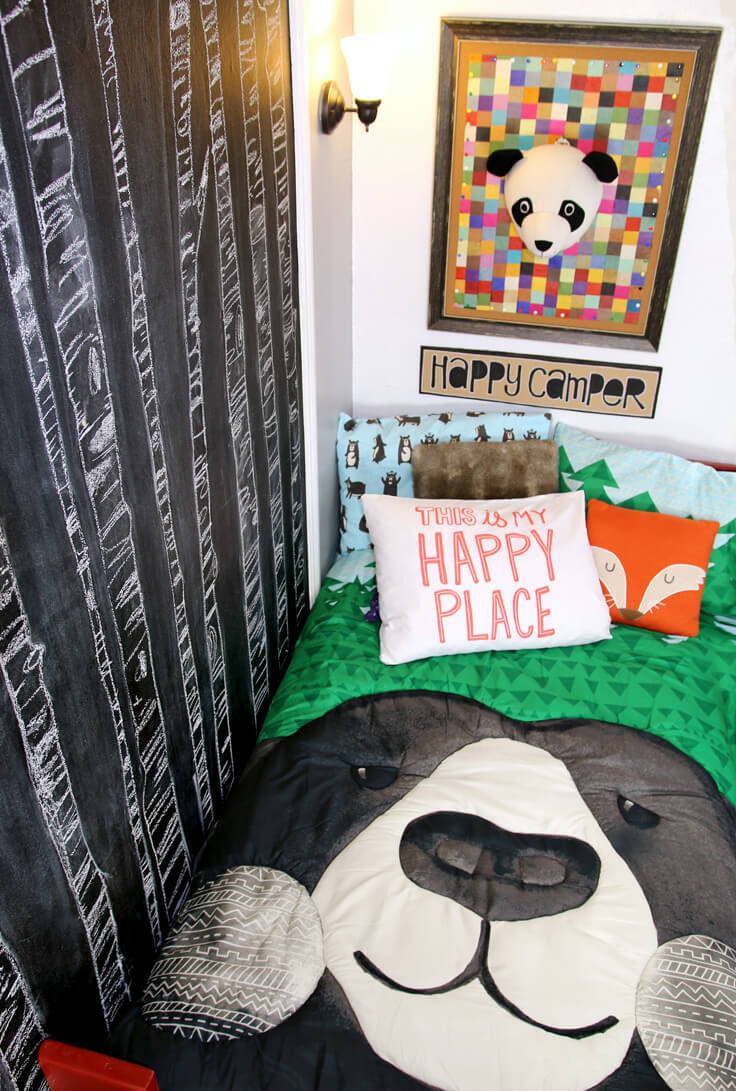 He L O V E S teddy bears and so the comforter couldn't be more fitting! Snuggling in his new bear flannel sheets, pillow and comfy Best Bears Forever Comforter Set was his favorite.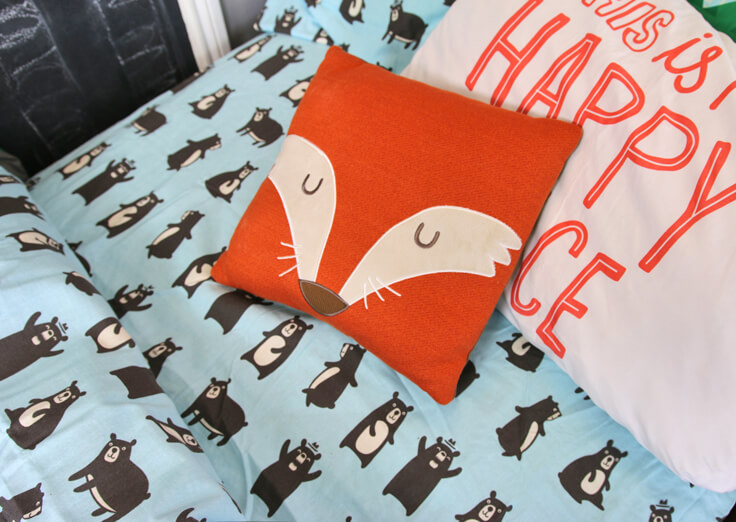 This Foxy Throw Pillow! Great quality & rich color. Campfire Creatures Flannel Sheet Set was a perfect match with the adorable design & I love this shade of blue.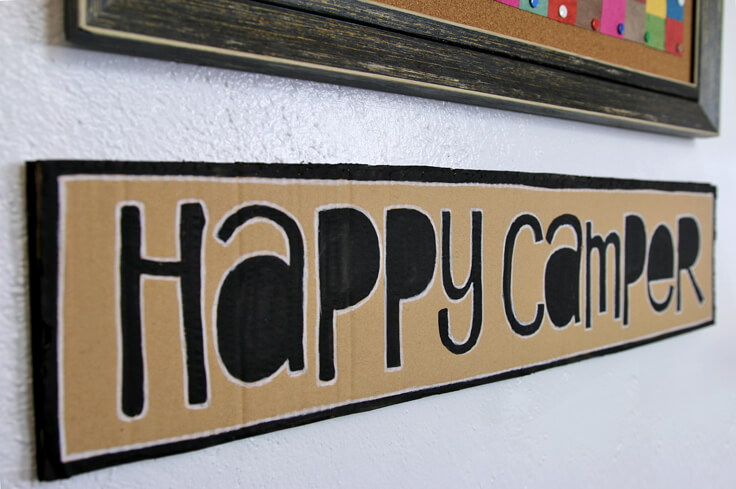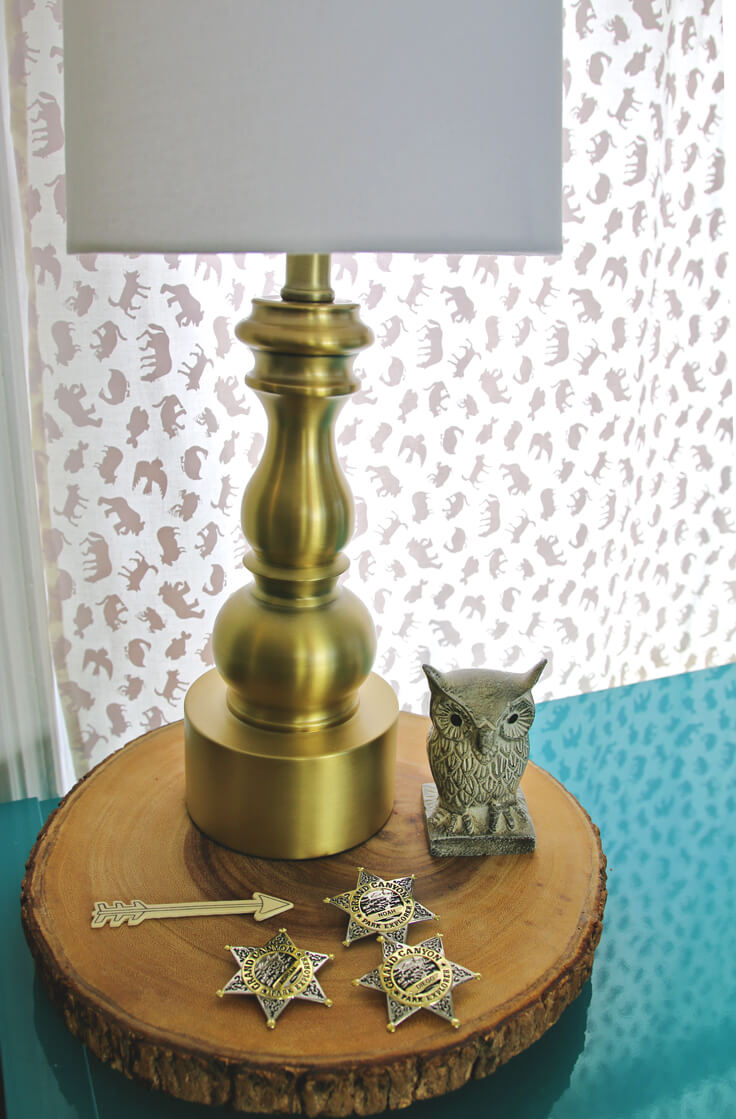 This Turned Table Touch-On/Off lamp was another of my favorites. As a mom, I also want my kids spaces to reflect my style too. So I think this is a subtle way for that mom touch in a room…it looks great for me and it's super practical for the kids, as all they have to do is touch the base with their finger tips to turn it off and on. No need to find a little knob to turn or pull.
My little seven year-old Noah just dove right in to his comfy bed!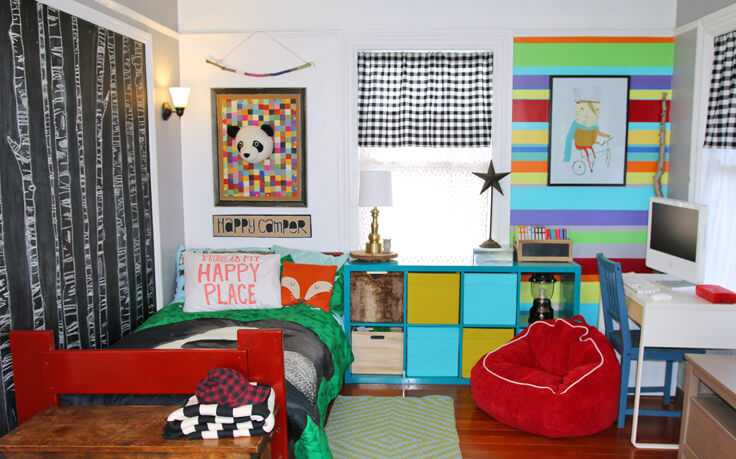 The red Couduroy Bean Bag was a big hit…I think I may need to get 2 more for his brothers!
A framed out chalkboard wall is a super easy way to bring a room to life. Here I drew some birch trees with white chalk to makes us feel like we are in the forest. It also adds a nice graphic element to the room that compliments all the other components for our Happy Camper theme.
The brothers helping to break-in the new room! It's a mother's dream to see her kids hanging out together in peaceful harmony. Sigh. With my boys, it may not happen often, but when it does…I love it!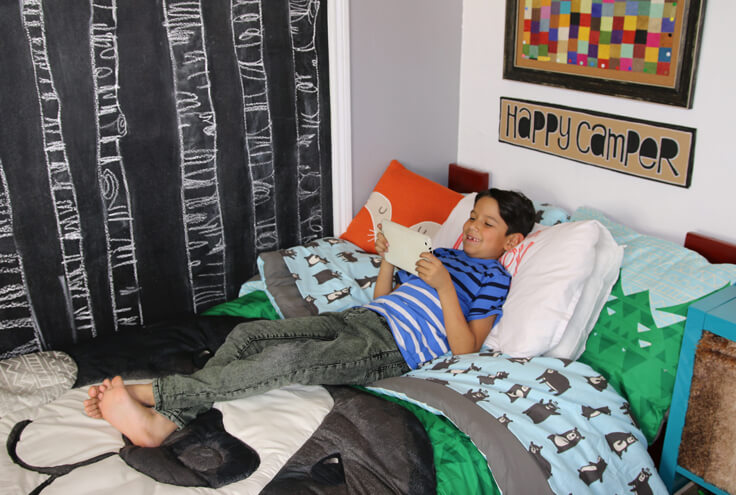 My little Happy Camper lounging in his new space thanks to his new Pillowfort items. Hope I've inspired you to give your kid's space a new look with the Pillowfort collection, plus your own personal touches. It was truly fun to see the kids faces lit up with excitement for their brother's room. Noah told his brothers." Now we can camp out in my room!"  So cute. I suppose some smore's are in order to celebrate the occasion!
Cheers!!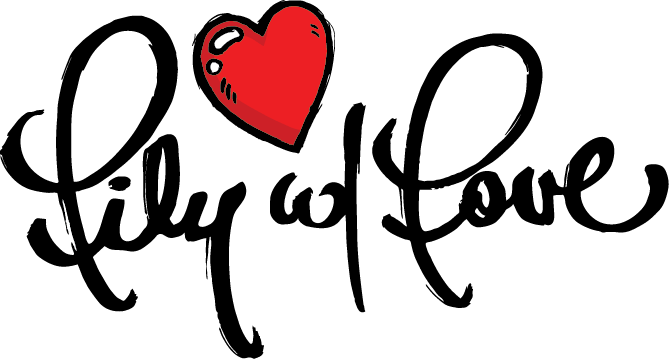 This post is brought to you by TargetStyle. Shop the new Home collection in stores and online.