Now that I'm at home all the time, getting out of the house on a Lunch Date with my loves is the best, especially ones that involve popsicles! On our way to a cool spot for lunch, my little Seli is always ready to stop and smell the roses…oh, wait the cactus flowers that is! ??

My husband & I recently stopped by Diablo on Sunset Blvd. in Silverlake. Now I search high and low for family friendly restaurants all the time..so when I find one that is as cool looking like Diablo and is family friendly for all my kiddos, I'm so there! Plus the food is so good! With things on the menu like pork belly tacos & beer batter rock fish tacos, I am all in! But their signature item is the micheladas…with a popsicle!! Popsicle Micheladas!
I love it when the food is not only good, but it's playful. As for my favorites, a must try is the Habanero Passion Fruit Popsicle Michelada (Yum) & I love-love the grilled corn with truffle (esquite). I've had real esquite in several parts of Mexico and no-where else in the U.S. compares, not even the street vendors here in L.A. But now I found a place that does! So you must try it!
I also had the pleasure to meet Head Chef of Diablo, Maura Ramos, who walked me thru her menu. Her love for food showed thru as she described the ingredients of her favorites and what she is trying to bring to Diablo's menu, authentic Mexican flavors, while blending in American favorites to the menu. One of her signature dishes was the classic burrito with chicken tinga. Which I also ordered and it was delicious & satisfying. I enjoy supporting women doing their thing in their respective fields and Maura really knows her stuff! I hope you check out her food at Diablo, you will enjoy it & the cool hang out vibe! …now if I can only get them to also serve sweet popsicles, ones that involve strawberries & pecans. (my favorite from Mexico!).
Until that happens, Diablo sells their Michelada Pops at Costco too! And I hear you can pick up this refreshing concoction next time you're at Dodger Stadium cheering on the best baseball team of all time (according to me of course) hahaha!… your Los Angeles Dodgers!—-(sorry, I'm so L.A.?)
They even have games there to play with to keep kids busy! Love it!
Dressing comfortably is huge for me, but I don't always want to go to my default of denim jeans or black leggings. That is too easy! I paired my black overall Zara jumpsuit with a printed thermal from Roxy. It's super casual with my cotton thermal, but chic with the woven black fabric of my jumper. I feel a little bit more dressed up than just wearing comfy cotton clothes with tennis shoes. Plus, I can still be the active mom my 2 year old wants me to be.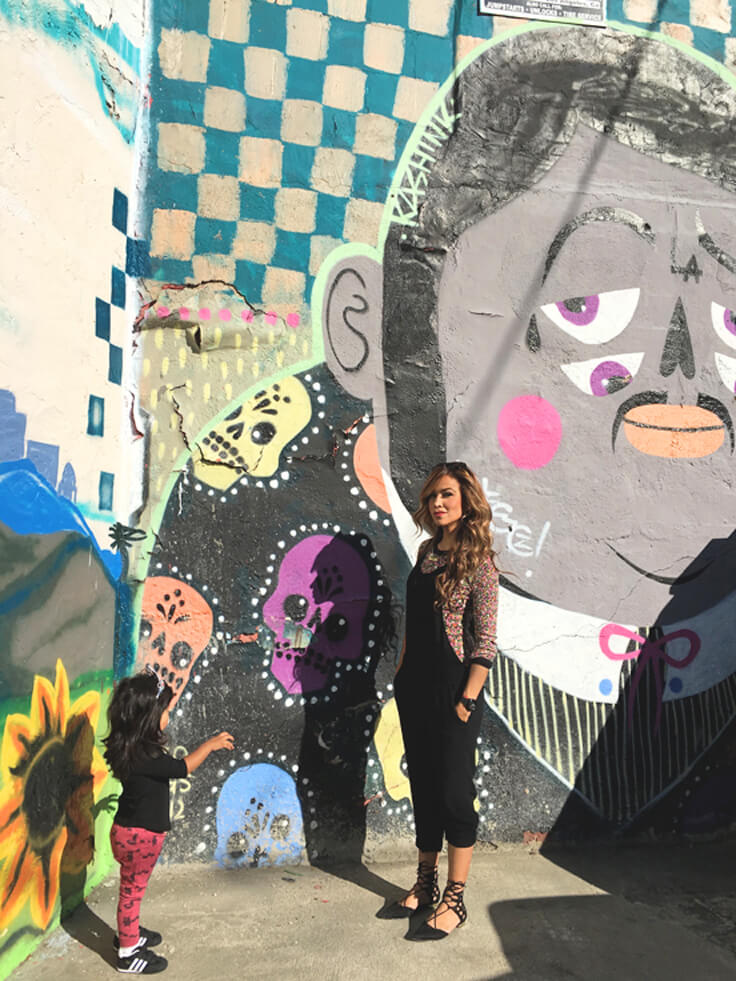 So active, she dared me to jump high! ?
But once I did, I think she quickly realized how embarrassing her mom is…and started to see if anyone was looking! So embarrassing for her! ???
No but, seriously…I think I hurt something on the way down…plus I dont think it was such a good idea to jump up and down with all that food we just ate! ?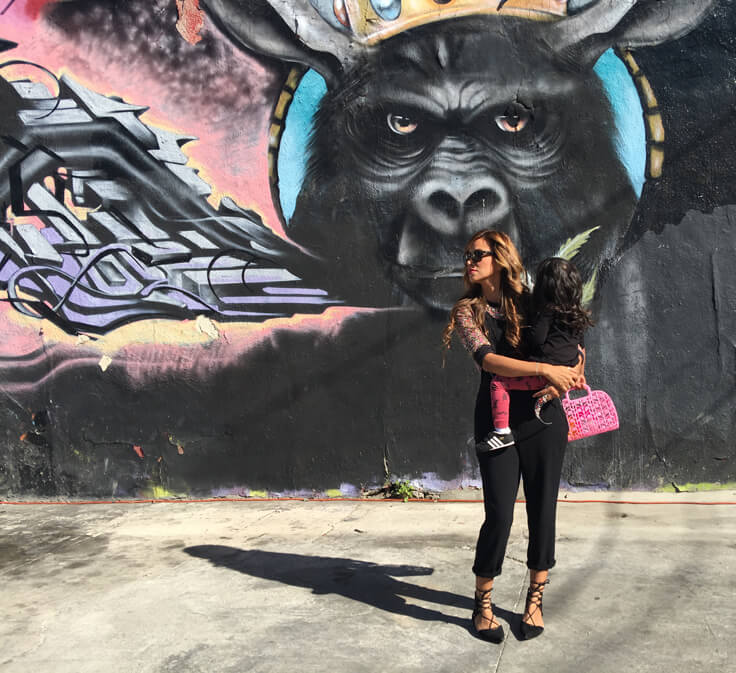 I'm fine now.
Anyway, we finally made it…the last month of the year, December! I'm happy about it & I can't believe another year has gone by so quick. For me this was a transition year, as I left my 17 year corporate job behind to pursue a creative lifestyle while at home with my kiddos. I knew it wasn't going to be easy, but I honestly have to say its a lot more work…but the good kind of work. The kind of work that doesn't feel like work because you love what you are doing. So will see what 2016 holds, but in the meantime, we are enjoying every last bit of 2015!
See you at my next post, but please be kind to each other when you are out Holiday shopping…in between all the holiday mayhem, stop by Diablo and order some esquite & a Michelada-Pop..you'll thank me! ?
Cheers!!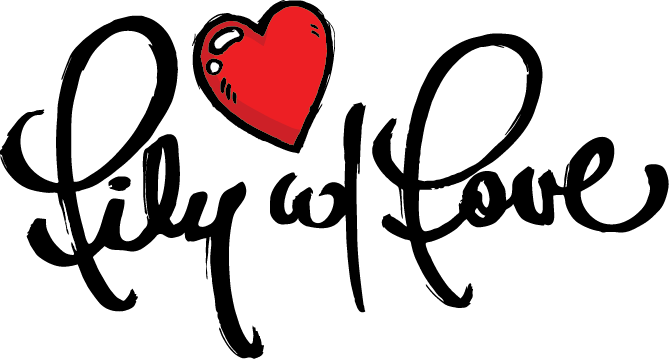 Shop This Post:  [show_shopthepost_widget id="1246043″]