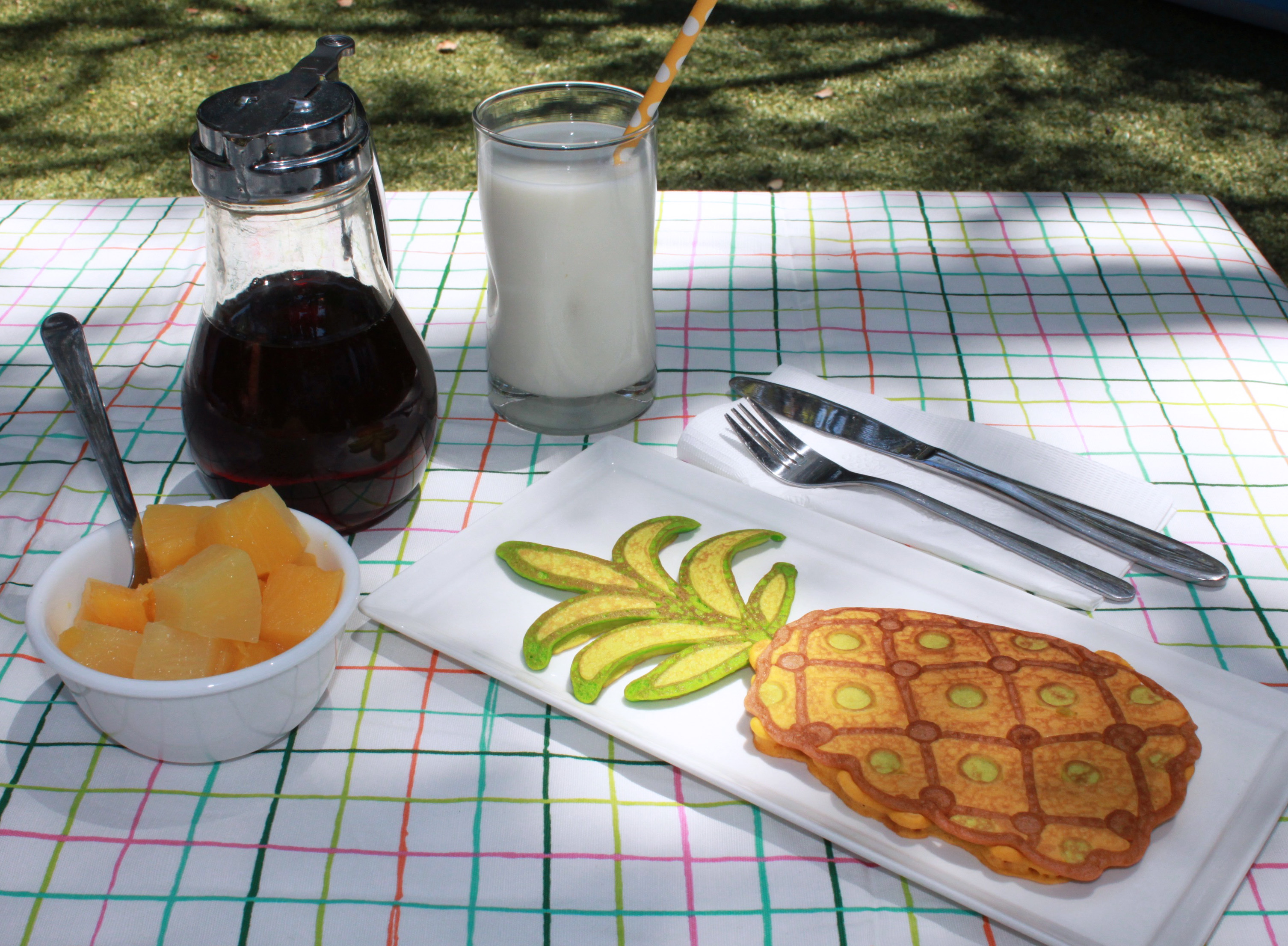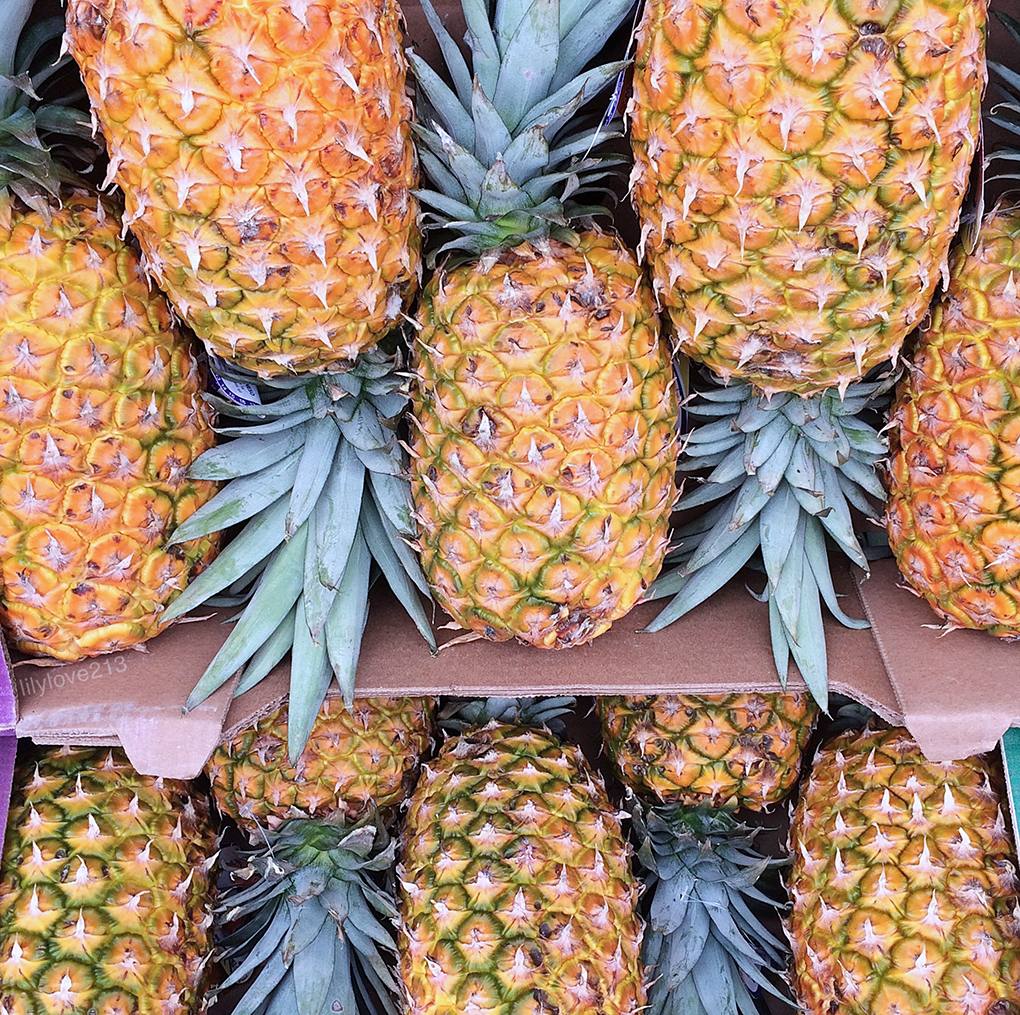 Inspiration can come from anywhere…and apparently pineapples seem to be a fun visual that is trending pretty high this year. What better way to continue to celebrate summer than with Pineapple Pancake Art! I had so much fun creating this fun pancake art and the kids enjoyed them even more! About the hardest part in making these pancakes is trying to put the batter in the squeeze bottles! Below is a quick how-to on these fun & yummy pancakes! ????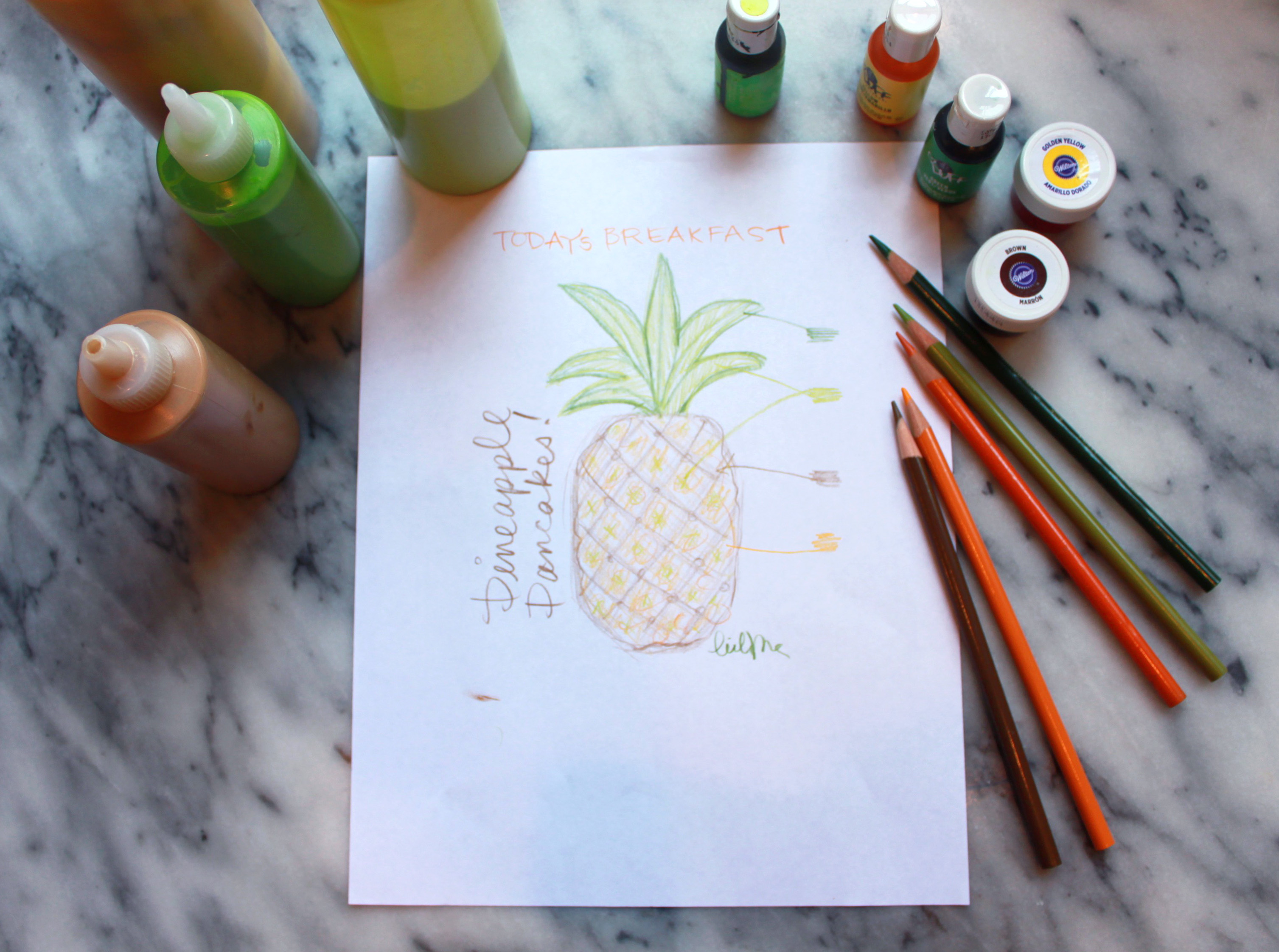 I usually start with a quick sketch on how I'm going to go about my next pancake creation. This one is easy, think dots & lines! I used 4 types of food coloring and basic lines to form the shape of the pineapple pancake. As I'm drawing on paper, I imagine how each line of batter will be squeezed out and how it's going to look once its flipped over, all while thinking of the easiest way I can achieve my desired design. Once I decide on my design, I proceed to get all the ingredients I will need.
 What you need (+recipe below post):
• mixing bowl
• 3 small bowls
• 1 medium bowl
• whisk
• baking spatula
• cooking spatula (not pictured)
• 4 different size squeeze bottles
• 1/3  cup
• rectangle griddle (not pictured)
• pancake mix
• cooking spray
• vanilla extract
• green, light green, golden yellow, & light brown food coloring.
• cold water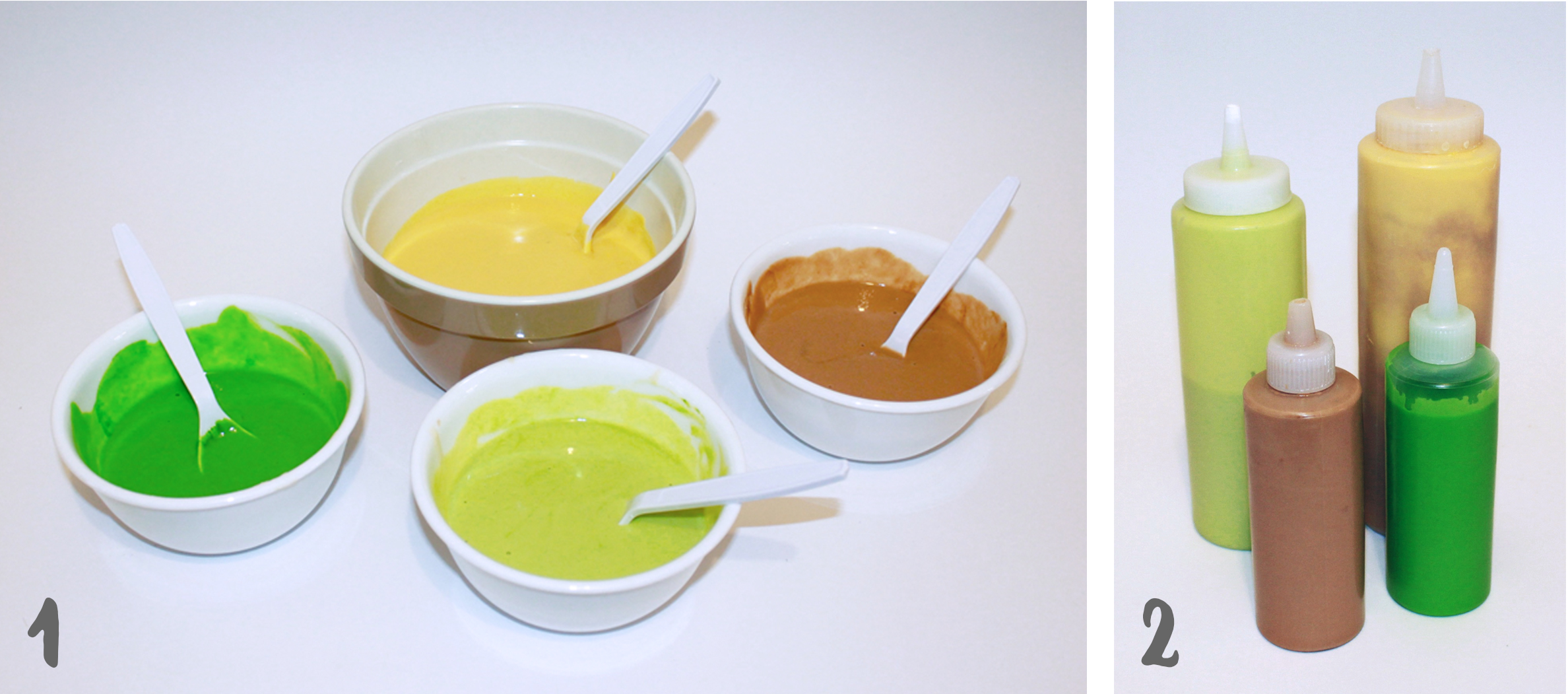 Mix ingredients very well with whisk. Make sure there are no lumps. 1. Now divide that batter into four bowls & add drops of the four different food color to each one. Make the medium size bowl the yellow batter, it will be the base of your pineapple pancakes, hence you will need more of this batter. 2. Pour the different colored batter in squeeze bottles. This is the messiest part of the whole pancake art making process. As you can see from the picture, I messed up and put the light-brown batter in the yellow squeeze bottle, but don't worry because our design is organic, so it worked out just fine.
**Disclaimer: Pancake art consists of a very basic pancake batter recipe, so keep in mind they are not supposed to be fluffy or bursting with flavor. (for fluffy pancakes, you should never over mix your batter & having lumps in your batter is ok).
But not for pancake art, batter should be smooth to help you achieve the shapes & there must be absolutely no lumps, it will clog your squeeze bottle in the middle of cooking…. mix very well.?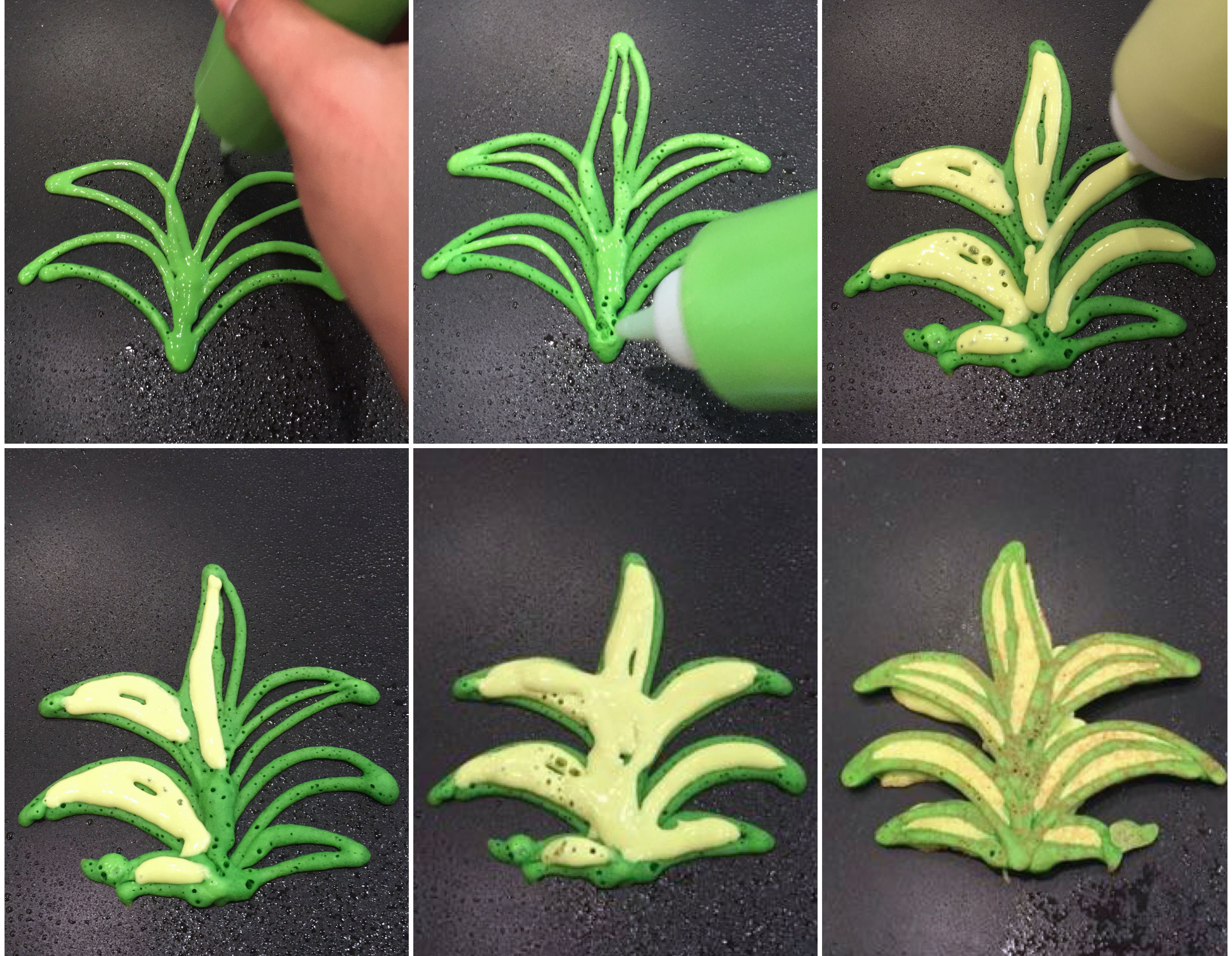 Heat your griddle at medium heat & spray the surface with cooking oil. To make the top of the pineapple pancakes, start to work fast and draw with the squeeze bottles leaf shapes with the green batter. Quickly switch bottles to the light-green batter & squeeze to fill in the gaps. It shouldn't take long to cook, so quickly flip over with spatula.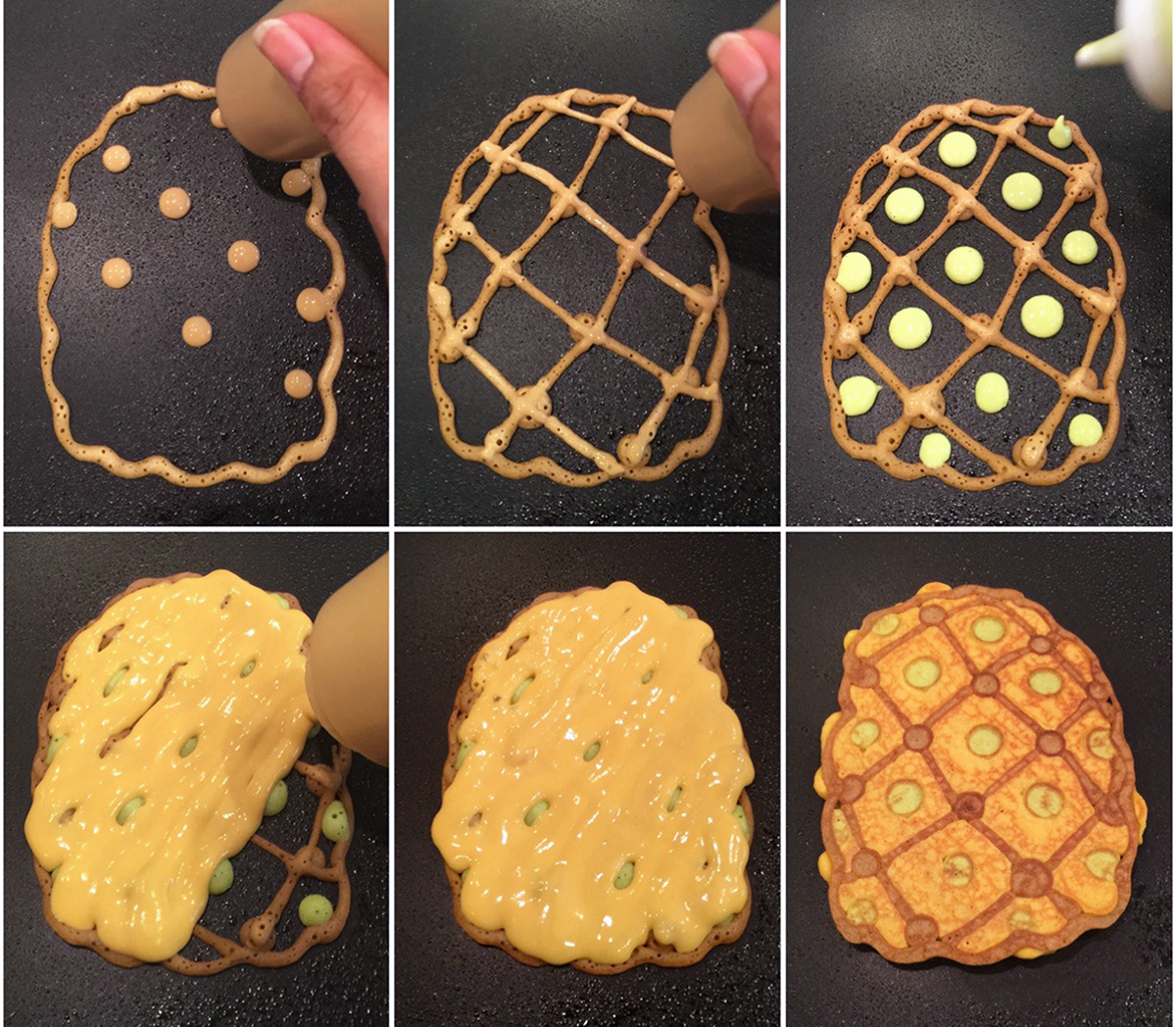 For the base of the pineapple, start drawing with your light-brown batter, by lightly squeezing a wavy/scalloped rectangle-oval type shape & add several dots. Continue to quickly add lines to connect the dots in a diagonal form. As soon as you finish, grab the light-green batter and squeeze dots within the diamond shapes. Do another switch-a-roo with the yellow pancake batter and squeeze batter all over the design. Let it cook until it firms up a little and then flip over. Cook a few more minutes, check with spatula to make sure its light brown & firm. Remove immediately.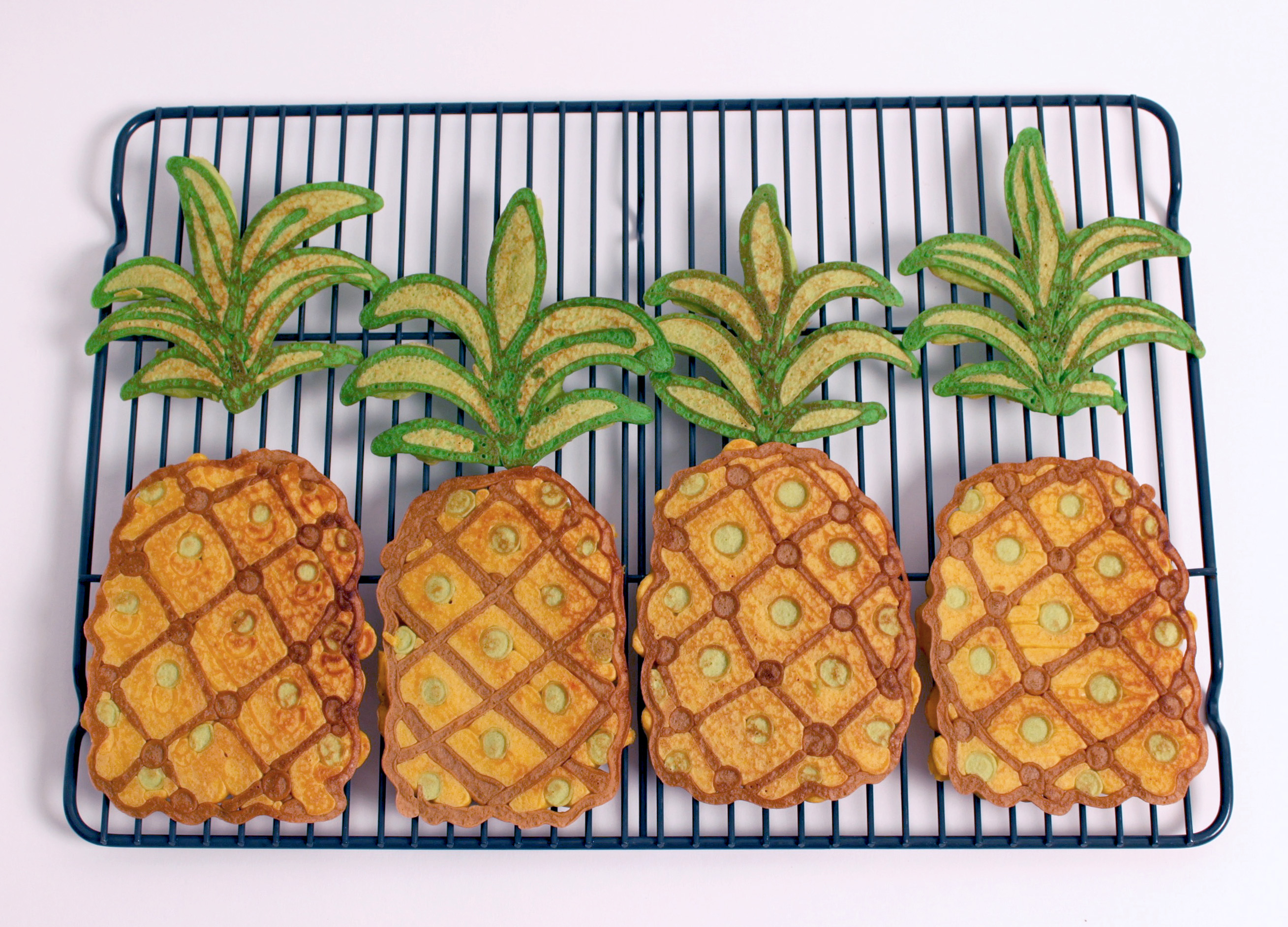 Place on cooling rack or cookie sheet. If not served immediately, place in your oven to keep warm. 200C should be fine.
Serve with a side of pineapple chunks, maple syrup and a cold glass of milk. They are fun to make, pretty to look at and yummy to eat!
Tag me on Instagram, would love to see your creations!! Enjoy! ????